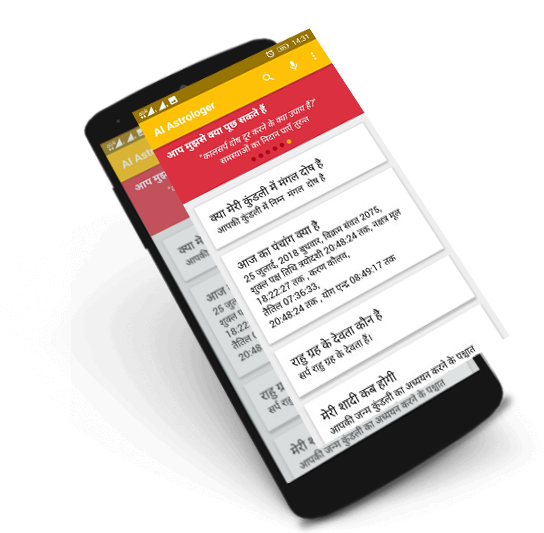 Bhrigoo is an AI Astrology app that can answer all of your questions related to astrology, rasi, horoscope, festival, fast, architecture, gemstone, dream, doshas, vastu and much more. This artificial intelligence astrology app is everything you need to make your life simple, easy and stress-free. The special thing about this AI astrologer is that the answer you receive will be both in verbal and written form, that means you will hear computerized voice and will also get answers in text on mobile screen.
Using modern technologies such as artificial intelligence, machine learning and ANN, this Bhrigoo AI Astrologer is created to help those who cannot read and write, also this ai astrology app can bridge the language barrier, hence, it will soon to be available in 9 regional languages. Not only it tells you about dasha, nakshatra, rasi, horoscope, but it also talks to you like a personal astrologer. So, what are you waiting you? Go and check out this Bhrigoo ai astrology app from Google play.
Ask Any Question
You can ask Kundli based questions, rasi based question, festival, fast, vastu and dream related questions from this machine learning astrologer. Just activate the Bhrigoo app by saying 'Namaste' or by tapping on the mike button, and you are ready to ask all of your questions related to astrology. It is as simple as talking to a personal astrologer. It is useful not only to a common man, but it can effectively be used by an astrologer for fast and smooth artificial intelligence astrology predictions and calculations.
From knowing about your marriage, health, career, relationship to finally getting information about any festival, gemstone, or any auspicious date or muhurat, Bhrigoo app has answers to all your problems. Be it dream, fast, astrology or any festival related question, this artificial intelligence astrology app can answer a myriad of questions on an everyday basis. The best thing about this app is that you don't need to use your finger or swipe left and right, instead you simply need to say "Namaste". This app will give quick access to voice-assistant astrologer and provide you time-tested results.
Astrology Based Questions
Using your birth details such as time, place of birth and date, you can operate this Bhrigoo ai app. Once your birth details are filled, the Bhrigoo app will start to auto-answer your questions directly:
When is my marriage?
When will my mangal mahadasha start?
What is my favorable color?
What is my favorable gemstone?
When will I get my first child?
When will my good time start?
Play Hanuman chalisa, mantra or video?
Astrology, Festival, Fast Related Questions
What is Kundli
What is Kaal sarp yogya?
What is Shani Sade sati?
Who are the nine forms of goddess?
When is Ekadashi?
When is Tulsi Vivah?
When is Holi, Diwali, Chhath Puja and Karwa Chauth?
What are Char Dhams?
When are sun and moon eclipse?
When is Diwali?
When is Holi?
Vastu Shastra, Dream Interpretation and Much More
What is the meaning of black cat in a dream?
What is the meaning of pitra in a dream?
Tips to attract wealth and happiness in your homes?
When should I be blessed with a child?
What should be the placement of Tulsi plant?
What should be the direction of living room?
What should be the direction of your kitchen as per vastu?
What is the direction of your child study room as per vastu?
So, you can ask any question from this AI astrology app. This is not just an AI astrologer that you get in your pocket, but this Bhrigoo ai app is here to change your lives and revolutionized them in a more advanced way.
Download Now
Download the Bhrigoo ai app from Google Play: