Bihu is a prominent festival celebrated in Assam region of India and is an amalgamation of three festivals celebrated during a different time (months) and with different traditions. Rongali or Bohag Bihu is the first in the list as it falls in the month of April. The second being Kongali or Kati Bihu celebrated in the month of October. The third one is in the month of January. It is called Bhogali or Magh Bihu. As per Indian calendar, the year starts in the month of April (Chaitra).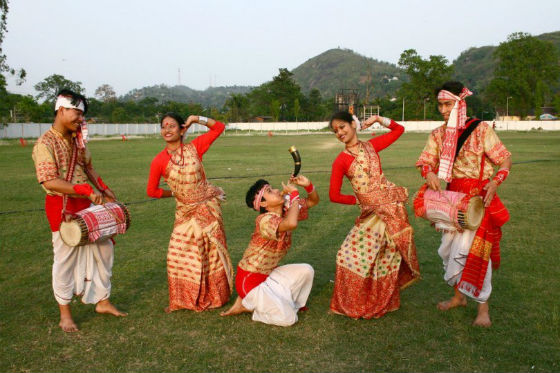 Rongali Bihu
The most important of all the three, this festival marks the beginning of the new year as well as the spring season. All three Bihu festivals are associated with agriculture, but Bohag Bihu is about sowing instead of harvesting which makes it different from other festivals associated with agriculture. The first day of Bihu is called Goru Bihu or Cow Bihu. People wash the cows and worship them on this day. The day after, Manuh (human) Bihu is celebrated. People welcome the New Year by wearing new clothes. Idols of gods are cleaned and worshipped on this day. The festival is linked with fertility and women celebrate their fertility by dancing on folk songs and depicting sensuous movements.
Kongali Bihu
Also known as Kati Bihu, this festival symbolises animalistic instincts as, during this time, there is a scarcity of resources. It is celebrated to protect the crops from any damage. This festival is not celebrated in a loud manner. There is an atmosphere of constraint in Kati Bihu. the festival is celebrated by reciting rowa-khowa chants and asking the Almighty to protect their crops from the evil eye (insects/pests). In the evening, cows are fed with a special dish called pitha made of rice. Lamps are lit near the tip of a bamboo pole. It is believed that by doing so, the soul of the dead will find their way to heaven.
Bhogali Bihu
From the word Bhog, the name of this festival is taken. Bhog means food and since supplies are in abundance at this time of the year, this Bihu festival is all about food. Agriculture and rice crop are the major associations with this Bihu. This is the time of harvesting and merry-making. A day before Bhogali Bihu, uruka is observed. With hay, a cottage called meji is made. At night food is cooked in huge quantities and community feast is organized. Sweets and gifts are exchanged, songs are sung and games are played. Next morning, Meji is burnt and pithas are offered to fire. Lord of Fire is worshipped and people take the half-burnt wood logs to their fields as they symbolize prosperity.
Click to get your personalized horoscope
Dances are an inseparable component of Assamese celebration. The folk music and dance, and unique attire make the view alluring. People hang metal items on the entry of their house, children wear flower garlands and people greet everybody they meet. Lord Krishna is worshipped in all the three Bihu festivals, however, the rituals remind you of Tibetan culture.
Legend
Bihu is better understood as Bihu Naas or Bihu dance. It is related to folk songs called Bihu Geet. The first form of Bihu dance is known to be developed in a temple. Harhi Dewaloi was its name. When modified in the 19th century, the dance became popular and was performed by other communities too. Origin of the term Bihu is in the Sanskrit language. The word Vishu means cheerful. It is from this word, this festival celebrated by all irrespective of caste is given the name Bihu.
Where is Bihu celebrated?
Bihu is the National festival of Assam - a beautiful state in India. The state is known worldwide for its tea gardens, river Brahmaputra, and lush green forests. Bihu is a seven-day long festival called Xaat Bihu. the name of days being Chot Bihu, Goru Bihu, Manuh Bihu, Kutum Bihu, Senehi Bihu, Mela Bihu and Chera Bihu.
Elements of Bihu celebration
1. Costume
A festival like Bihu is incomplete without music, dance, food and fun. People dress up in traditional attire and gather to dance together. The costumes worn are simple, so you can freely move your limbs. However, matching ornaments make the whole appeal very vibrant and striking. Male members wear a cotton dhoti draped in traditional fashion. A headband or gamocha is worn on heads and sometimes around the waist. Women wear Mekhala - a traditional saree with a chaddar used like a dupatta. They beautify themselves with ornaments made of flowers as well as metals. Colours of the whole attire are chosen to heighten their sensuous appeal.
2. Bihu dance
Men and women both dance together in Bihu dances. Generally, men followed by women reach the stage or area set for the dances. Some moves of the dance are common to men and women, while some are meant for a particular gender and performed in synchronization with the partner. The dance form requires a high amount of energy as the moves are quick.
3. Bihu music
Drums, Flute and Dhol are specific to Bihu music. Songs as well are an integral part of the performance. With pleasant sounds, the songs of Bihu are sung to express happiness. The musical instruments used in Bihu celebrations are Dhol, Taal, Pepa, Toka, Baanhi, Xutuli, and Gogona.
4. Bihu sports
Nightingale-fight, Buffalo-fight, Cock-fight, Egg-fight and such sports are enjoyed by Assamese people. For the whole day, these games are played and enjoyed by people to depict their happiness and culture.
Find out other festivals in 2019: Calendar 2019