Dev Uthani Ekadashi or you can say Prabodhini Ekadashi, is the day when Lord Vishnu wakes up from four months long sleep. Period of Chaturmas ends with Dev Uthani Ekadashi. So what is this Ekadashi actually? Why is it auspicious? Read on to know all about this blessed period.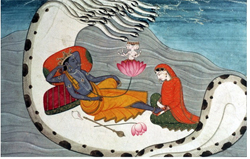 Dev Uthani Ekadashi 2017 date is October 31. Tulsi Vivaah and Bhishma Panchak is also celebrated on the same day. These festivals are celebrated on the eleventh day of bright half of Hindu month Kartik. This Ekadasi comes after Diwali and is also called as Prabodhini Ekadashi.
It is said that Lord Vishnu sleeps in the Kshira Sagar (Milk Sea) on Asadh Shukla Ekadashi and wake up only after four months on the day of Devutthana Ekadashi. Several auspicious works like marriage etc. are prohibited during this period. Once the lord wakes up, every auspicious work is initiated again.
Devuthan Ekadashi : The Mythological Story
Once Goddess Laxmi requested Lord Vishnu - Oh God, now you awake all day and night, but when you sleep, you keep sleeping for lakhs and crores of years and destroy the whole universe. Therefore, you should take proper rest regularly and it will also help me to take some rest during that period.
Lord Vishnu liked her advice. He said – "you are right. All the gods and especially you suffer a lot due to me being awaken. From now onwards, every year I will take rest for four months in rainy season. My this sleep will be called a nap (Alpa-nidra) and my sleep at the time of destruction of universe will be called deep slumber (Maha-nindra). My nap is very beneficial for my devotees and during this period, if a devotee serves me with the feeling that god is in sleep, I will always reside in his/her home with you."


Tulsi Vivaah
The festival of Tulsi Puja is celebrated in India on the Ekadashi in bright half of Kartik month. It has been said that people who marry Tulsi (basil) to Lord Vishnu in the holy month of Kartik, gets relief from all their sins of their last births. Below given song is sung by the devotees while performing rituals of Tulsi Vivaah:
मगन भई तुलसी राम गुन गाइके मगन भई तुलसी ।
सब कोऊ चली डोली पालकी रथ जुडवाये के ।।
साधु चले पाँय पैया, चीटी सो बचाई के ।
मगन भई तुलसी राम गुन गाइके ।।
The ninth day of Kartik bright (Shukla) is appropriate date for Tulsi Vivaah. After observing fast and offering prayers on Navami, Dashmi and Ekadashi, it is considered auspicious to give a Tulsi plant to a Brahmin.
It is mentioned in our scriptures; couples who don't have a child must marry Tulsi once in their lifetime and get a virtue of bestowing.
Bhishma Panchak
This fast starts from Kartik bright Ekadashi and goes on till the full Moon, that's why it is called as Bhishma Panchak.
Legislation: Lord Krishna is worshiped with this Mantra:
ॐ नमो भगवने वासुदेवाय
A lamp with pure Ghee (purified butter) is lit for five days. 108 Ahutiyaan of pure Ghee, sesame (Til) and barley are offered, while chanting this Mantra:
ॐ विष्णुवे नमः स्वाहा
Devuthani Ekadashi : The Story
At the end of Mahabharata war, when Bhishma Pitamah was lying on Sharashayya while waiting for Sun Uttarayan, Lord Krishna reached there with five Pandavas. Yudhistir requested Bhishma Pitamah to advise them, considering it as the right occasion. Bhishma Pitamah preached them for five days on Raj Dharma, Varna Dharma, and Moksha Dharma. Lord Krishna became very satisfied with his advice and said – Pitamah, the religious lesson which you delivered for five days since bright Ekadashi till full Moon, made me very happy. Now in your remembrance, I establish a fast on your name called as Bhishma Panchak.
This was all about Dev Uthani Ekadashi. Observe this sacred day and lead a harmonious and blissful life ahead.