Apart from being a splendid scientific affair , Eclipses have always been an event of fascinating significance in Astrology. The planets or more often, sun, moon, and the earth form a syzygy (coming in a straight line configuration), the three form or become part of what we know as an Eclipse.
The year 2017 would see a total of 4 eclipses i.e. 2 solar eclipses and 2 lunar eclipses.
Before moving on, let us know a little about these eclipses in brief to understand the phenomenon better.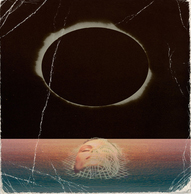 Surya Grahan 2017 (Solar Eclipse 2017)
A solar eclipse is said to have taken place when the Moon casts a shadow over the Earth while being between the Sun and the Earth. This occurrence can only take place at the phase of a New Moon. During a solar eclipse, a connecting force is said to be at play between the Sun and the Moon. A solar eclipse can further be classified into a total solar eclipse, a partial solar eclipse and an annular eclipse depending upon several factors.
Chandra Grahan 2017 (Lunar Eclipse 2017)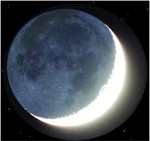 A lunar eclipse is said to have occurred when the Sun's light is blocked by the Earth which otherwise shines off on the surface of the Moon. During a lunar eclipse, a force of opposition is said to exist between the Moon and the Sun. During a lunar eclipse, various shades of grey, red and brown can be witnessed on the surface of the Moon. A lunar eclipse can be classified into a total, partial and penumbral lunar eclipse. A lunar eclipse has always given way to doubt, fear and awe over the centuries and has an exceptional astrological importance.
Grahan Time and Date
The day of the New Moon falling on the 26th of February 2017 (Vikram Samvat 2073) will be the first Solar Eclipse of the year 2017. The second Solar Eclipse will be falling on the 21st of August 2017 (Vikram Samvat 2074).
The Lunar Eclipse will be falling on the 11th of February 2017 (Vikram Samvat 2073) and 7th of August 2017 (Vikram Samvat 2074).
Surya Grahan 2017 (Solar Eclipse 2017)
This year 2017 will have two Solar eclipses. The first one will occur on the 26th of February and the second one will take place on the 21st of August. Though, both of these eclipses will not be visible in India yet their scientific and astrological importance will remain unhindered.
| Date | Type of eclipse | Grahan visibility in India | Eclipse visibility in global locations | Time of Grahan (IST) |
| --- | --- | --- | --- | --- |
| 26 February 2017 | Solar Eclipse | No | South America, Antarctica, South Africa, Southern pacific ocean, South Atlantic ocean | 17:39 to 23:04 |
| 21 August 2017 | Solar Eclipse | No | South Africa, Northern Pacific region, Antarctica | 21:16 to 02:34 |
Chandra Grahan 2017 Dates (Lunar Eclipse 2017)
Out of the four eclipses occurring in the year 2017, we will be able to witness two Lunar Eclipses. This eclipse is believed to take place on the 11th of February, 2017 and 7th of August. The other Chandra Grahan would be Penumbral Lunar Eclipse, which would have no effect whatsoever on us.
Date
Type of eclipse
Grahan visibility in India
Eclipse visibility in global locations
Time of Grahan (IST)
11 February, 2017
Penumbral Lunar Eclipse
Yes
Asia, North America, Africa, North America, South America, Pacific Ocean, Indian Ocean, Atlantic Ocean, Arctic, Europe, Antarctica.
Starts at 04:04:14
Ends at 08:23:25
7 August 2017
Partial Chandra Grahan
Yes
India, Europe, North America, Africa, Australia & East of Asia
Starts at 22:52 Approaches mid-phase at 23:50 Ends at 24:48:00
*Note: Penumbral Lunar Eclipse is not an actual lunar eclipse. In this eclipse, the moon doesn't move from the shadow of the earth, instead it moves through the outer part of the earth's shadow where its arc gets slightly dusky.
Lores associated with the eclipses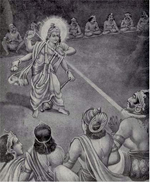 The The reason and origin of eclipses can be traced back to the Vedic times: the era of Samudra Manthan. It is believed that two clans of Suras and Asuras had onced churned the sea to extract the pot of elixir that was present in the very core of the Earth. After hours of backbreaking hard work when the elixir came out, the Asuras made of with the pot. As the elixir would make its consumer death-defying and undefeatable, it was very important to stop Asuras from consuming it. To conduct this duty, Lord Vishnu disguised himself as a beautiful Apsara called Mohini and suggested to divide the elixir equally amongst the Suras and Asuras. Suspecting a trickery, Rahu changed his avatar as a Sura and sat amongst the Gods. Mohini, while serving the elixir to the Suras, accidently served the elixir to Rahu too. On realising the deceit of Rahu, Lord Surya (Sun) and Lord Chandra (Moon) informed Lord Vishnu of it and Rahu was beheaded for his treachery. But as Rahu had already consumed the elixir, he had become immortal. Rahus' body was divided into two parts that came to be known as Rahu and Ketu from that moment on. Eclipses are Rahu and Ketus' way of punishing the Sun and the Moon for informing Lord Vishnu of their trickery.
Ancient beliefs surrounding the Eclipses
As per ancient Vedic belief system, the duration of an eclipse is not considered to be auspicious and rewarding. Usually during the period of an eclipse, all felicitous activities and merriment is put on hold. Those belonging to the Nakshatra and the Sign in which the eclipse is to happen are believed to undergo the negative effects of the eclipse. However, adversities can be dialed down by taking the prescribed measures to keep negativity at bay and chanting mantras while the eclipse lasts.
The Sutak Kaal
The Sutak Kaal is a 12 hour long period that begins prior to an eclipse. It is believed to a very inopportune duration to kick off auspicious events and work. This believe has risen from a perception that deems a 'Kaal' period to be full of ominousness and ill-omens. This period is said to be comprising of negativity and unpeaceful energies. The Sutak comes to an end after the eclipse gets over and one has taken a bath to get rid of impurities and negative energy.
Precautions to be taken during the Sutak Kaal
A few points of caution are mentioned below to help keep the negativity and inauspiciousness at bay during a Sutak Kaal.
Activities such as eating, drinking and using the loo are forbidden during a Sutak Kaal.
Abstain from touching the idols of gods and holy plants such as Tulsi during a Sutak Kaal. Clean the idols of all the impurities once the eclipse is over.
It is advised to light diyas and candles in holy places at in ones' home and chant mantras to keep the vicinity clean and positive.
Exercising during a Sutak Kaal is advisable.
Chores such as knitting, sewing and use of knives and scissors should be avoided.
It is suggested to exercise restrain from intimacy and sensual activities during an eclipse.
Sprinkling of Holy water in and around the house and fresh food preparation must be done after the eclipse has passed.
In case the food is to be prepared beforehand and needs to be stored, put a tulsi leaf in the food before storing it.
During an eclipse. Food must be prepared freshly and should only be consumed after taking a bath.
Pregnant women must exercise caution and not be exposed during an eclipse at all costs as the rays and energies present in the atmosphere during that period might harm the foetus.
The effects of a Lunar Eclipse last for about 6 weeks and that of a Solar Eclipse last for almost 6 months.
An eclipse is considered to be good time to practice spirituality and gain religious and spiritual knowledge.
Mantras to shield yourself from the Eclipses
Mantra for a Solar Eclipse:
ॐ आदित्याय विद्महे दिवाकराय धीमहि तन्नो सूर्य: प्रचोदयात्॥
Mantra for a Lunar Eclipse:
ॐ क्षीरपुत्राय विद्महे अमृत तत्वाय धीमहि तन्नो चन्द्रः प्रचोदयात्॥
What not to do during a Lunar Eclipse?
Since ages, as a part of precautionary measure, many routinely activities are forbidden from being done and some activities are advised to be done. After the eclipse has begun, it is suggested to not indulge in eating, sleeping, touching the idols of gods and merriment. A few activities which are known to tone down the inauspiciousness of an eclipse are taking a bath, chanting of mantras, conducting a havan and revering the gods. It is strongly advised to make donations, feed the hungry and take bath, preferably in holy waters, after the eclipse has come to an end to get rid of the impurities that one might have in contact with and one's' sins. Pregnant women need extra attention and care during and after an eclipse. They should not be directly exposed to the outside environment during this period and must not make a direct eye contact with the Sun or the Moon, depending on the type of eclipse. Elderly, children and the diseased and unhealthy are believed to stay unaffected by an eclipse. The ill-effects of an eclipse can be reduced by keeping these points in mind and acting upon them.
We at AstroSage, wish you a very happy and prosperous new year. We hope that all your aspirations see realisation in this year and yu achieve what is truly yours to keep.