The Festival of Colors, Holi is celebrated with great joy in India. Similar to other festivals in India, Holi is also symbolic of the victory of good over evil. A popular festival of Hindus, it is celebrated worldwide. In the year 2020, Holi will be celebrated on Tuesday, March 10. According to the Hindu calendar (Panchang), the festival of Holi is celebrated on the full-moon day (Purnima) of Phalgun month (Feb-Mar). People spread the love by putting colours on each other's faces and wishing each other a "Happy Holi".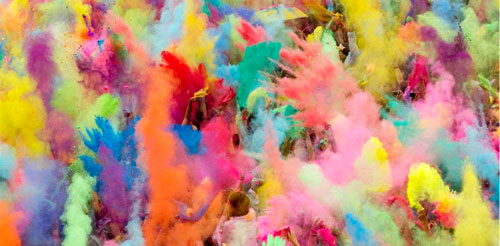 Holi celebrations take place in two parts. On day one, the celebration is at night. A huge pile of logs, similar to the one made on Lohri, is set up. Bonfire is lit at night, but prior to that women worship the almighty and perform a parikrama around it. On the second day, from the very morning, you will find people playing with colours. Children fill water balloons and throw them on each other. Even elders throw buckets of water over each other. The festival of Holi is incomplete without a Pichkari. You will find every kid carrying it.
Holi is celebrations in certain cities is beyond expectations. The city of Mathura, Vrindavan and Barsana are known for it. These places are related to Lord Krishna and it is believed that he also played Holi in these cities. At some places, people play Holi in a very unique manner, like with flowers and even with sticks. In Barsana, the place liked with Radha Rani, is known for its Holi celebrations and people across the globe come to visit the city during these days. It is one city where Holi is celebrated for more than 'just one day'.
Also Read: Are you suffering from Mangal Dosha?
What is the significance of Holika Dahan?
There are various reasons for celebrating the festival of Holi. Not only the festival of Holi highlights the cultural values of our country but also holds religious significance. People start making sweets, particularly gujiya, several days before the festival. There are a variety of delicacies like chips, golgappe, dahi bade, mathri, etc.
The evening before the day of celebrating Holi, the ceremony of Holika Dahan is done. This festival holds a lot of significance in the history of Hindu religion and mythology. The story says that there was a king named Hirankashyap, who considered Lord Vishnu to be his enemy. He was very egoistic and asked people to stop worshipping the god and start praising him. But his son named Prahlaad was a devotee of Lord Vishnu. Prahlaad was so devoted to Lord Vishnu that he did not listen to his father's commands.
Hirankashyap made several attempts to kill his son Prahalad but in vain. After the failed attempts, Hirankashyap called his sister Holika to kill Prahlaad. Holika had a boon as per which if she covered herself with a sheet given to her by Lord Brahma, she could even sit in the fire and not die. Holika took Prahlaad in her hands and covered herself with the sheet and sat on a platform made of logs, to be offered to fire. However, the situation did not go by her plan. Lord Vishnu saved Prahlaad by putting the cover over him and Holika died as the fire burnt her into ashes. This is the reason one day before Holi, Holika Dahan is done to kill all the evil instincts. After this happened, Lord Vishnu came as a manifesto of Narsigh and killed Hirankashyap.
Why is Holi celebrated?
Holi has relation with mythology as well as history. It is believed that it was the day of Holi when the first human came and made the planet earth their home. Also, on the very day, as per mythology, the Lord of romance and love Kamdev was re-born. Lord Krishna also, used to celebrate the festival of Holi in Mathura.
Also Read: Free Online Horoscope Compatibility Match
The main rituals during the festival
There are not many rituals involved with the festival of Holi, but on the day of Holika Dahan, there are some that should be performed. During a particular time, i.e. a certain muhurat, people gather around the pile of wood logs. Women observe a fast and pray for the long life of their children, boys in particular. At night, the logs are lit.
This festival holds a lot of moral importance as it is believed that we burn all our evil thoughts and negativity in the fire during Holika Dahan. With this, we are supposed to proceed on the path of righteousness and give a fresh start to our life, being surrounded by positive vibes. This is the main ritual that practically is most important.
How is the festival celebrated?
This festival is celebrated by everyone and the preparations start days before. Gujia is the most popular sweet which is specially made for the festival of Holi. There are other delicacies made by women of North-India like mathri, papad and namkeen. At the time of Holika Dahan, Gujia along with other things is kept as offering to God and later distributed as Prasad.
After performing puja, people gather at the time of Holika Dahan. After burning the logs, the ashes are also considered as holy. People take them home as a sign of good luck and happiness. After performing puja, people gather at the time of Holika Dahan. After burning the logs, the ashes are also considered as holy. People take them home as a sign of good luck and happiness.
Also Read: Today's Panchang
The next morning, people wake up early as they can act mischievously. The phrase 'bura na mano Holi hai' is a common one, used by everyone on the day. People paint each other's face with different shades and colours. They also fill balloons with water and keep them ready since morning. Whosoever comes in the range, is welcomed with a water balloon blasting on their back.
The festival of Holi is celebrated at a time when the weather is moderate i.e. it is neither too hot nor too cold and you can choose to wear anything which is comfortable. Most of the time, the clothes which are worn on this day are discarded, however, you can choose an outfit which is easy to wash or is capable of preventing the colours to come in direct contact with your body.
The day of Holi is also popular for bringing back old relations back in life. People go around meeting their friends and relatives. On this day, nobody feels bad for putting colours and greets you with a nice gesture. Sometimes, it becomes an excuse and re-establishes a bond that was lost long ago. Forgetting grudges and accepting each other is a lesson this festival of colours teaches us.
There also is a trend of visiting the house of the people you know. Everybody is ready with lots of colours with a desire to colour their world. People keep sharbat, dahi bade, chaat or gol gappe ready for the visitors. The words - Holi hai! Happy Holi - are heard from every street and every corner.
Things to be taken care of
Wear cotton clothes while going for Holika Dahan as going near fire wearing synthetic clothes involves risk.
Braid your hair properly and apply oil to save them from colours.
Use herbal colours or you can even choose to make the colours yourself.
Put as much oil as required before going out to play with colours as you neither want them to stay in your skin for a long time nor you want to face difficulty removing it.
Take care while playing with water. It is a potential threat.
Don't waste too much water. There are people who still don't have access to clean drinking water.
Go for a natural clean-up or spa after removing the colours to ensure there's no residue.
Also Read: Education Report
Cultural values are something that we really need to hold close to ourselves. Festivals keep us connected to our roots even if we are living away. Enjoy the colours and precious moments of life with your family. But remember that these festivals are not only for merry-making but they teach us some values which when implemented in life will make us better human beings.
Holi is a festival of love, of colours, of fragrance, of making relationships better. It is not a means of taking revenge as some anti-social elements have defamed the festival by curbing its spirit and doing things they shouldn't. Festivals are a means of spreading joy and at any cost, they should not become the reason for someone's sorrows.
Happy Holi from Team AstroCAMP.