Kali Puja in 2017 is scheduled on October 19. Goddess Kali in this form is believed to be one of the most aggressive and furious. But still, she is worshiped & idealised as a mother. By worshiping Maa Kali in this form, you get the strength to overcome all evils. Read on to know more.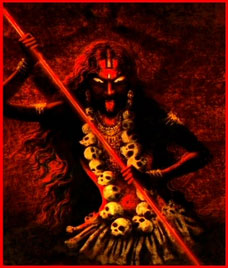 Maa Durga's one of the most ferocious form is the Avatar of Maa Kali. As per the Hindu mythology, Goddess Kali is believed to be the first incarnation of Goddess Durga.
Kali Puja is celebrated on the New-Moon night (Kartik Amavasya) in the month of October or November. As per the Hindu Calendar, Kali Puja is celebrated in Kartik Maas (month). Every year, Kali Puja takes place during the time of Diwali.
Kali Puja is a major celebration in East India, especially West Bengal and Assam, when Goddess Kali is venerated. While Kali Puja is celebrated in eastern parts of the country, people celebrate Diwali in the rest of India.
Before knowing more about the celebration of Kali Puja, let's first know why Goddess Durga is incarnated in the form of Maa Kali.
Kali Puja : The Idol Of Goddess Kali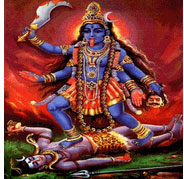 Maa Kali is always depicted as the most powerful Goddess. Kali acts as a protector and she possesses the most aggressive features. In all the Kali idols, we witness the Goddess with four arms. All these four arms are a representation of her behavior and there is a huge significance of the same, for her devotees.
The first arm of Goddess Kali is with a sword that kills the evils around. The second arm of Maa Kali holds a head of a demon, which clearly signifies that she will act as a protector of the universe from all the evils (Asuras). The other two hands signify that Maa Kali is always there to bless her devotees. Goddess Kali wears a string of skulls as a necklace.
Goddess Kali's eyes, tongue and the whole body are depicted as red, which is a sign of blood. Goddess Kali stands on one foot and another foot is on the chest of Lord Shiva. Maa Kali's girdle is made up of human hands which appears like a cloth.
Kali Puja : Depiction Of Goddess Kali
Maa Kali in all her idols, is depicted black, which signifies the transcendental nature and black is such a color in which each and every color gets dissolved. Maa Kali is believed to be beyond any Maya (illusion) and free from any illusionary effect. Since time immemorial, Maa Kali is the protector of the universe. The three eyes of Maa Kali act as the protector of the past, present, and future. Goddess Kali's necklace has fifty human skulls, which represents the fifty letters present in the Sanskrit language and this necklace is a symbol of infinite knowledge that Maa Kali possesses.
Goddess Kali's red tongue and body is the depiction of blood along with her nature and her love toward the various "flavors". Her white teeth signify purity and her sword acts as a destroyer of all the evils present. Her cestus is made up of human hands, thus symbolizing work and freedom from the Karma Chakra.
Kali Puja : Legends Of Kali Puja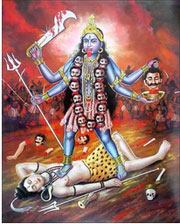 Goddess Kali incarnated from Goddess Durga in order to protect the universe from all the Asuras (demon). There was a time, when two demons Shumbha and Nishumbha disturbed the peace of the universe and the gods. Lord Indra (Lord of gods) was also defeated by these two demons. Gods took refuge and seeked help from trinity (Brahma, Vishnu, and Mahesh) and on their request, Goddess Parvati took an Avatar of Durga to protect the universe from all the Asuras. Durga killed Mahishasura (demon) and for the protection of others, she incarnated in her most furious and aggressive form that is Goddess Kali.
Maa Kali ended the life of these two demons (Shumbha and Nishumbha) along with Rakhtbeej, who again and again took birth with his drops of blood. Goddess Kali killed him by collecting his blood in the pot which is depicted in Maa Kali's idol. Post the killing of Rakhtbeej, Maa Kali became so furious, angry, and aggressive that she started destroying everything which came in her way.
On this, Lord Shiva had to lie down in front of her, to stop Maa Kali in order to protect the universe from getting destroyed. As soon as Goddess Kali put her foot on Lord Shiva's chest, out of shock and disbelief, her tongue came out.
Since then, Goddess Kali is worshiped and depicted in this form.
Maa Kali is worshiped with a lot of devotion and rituals. These rituals or Pujas are an extremely important part to worship the Goddess. It is believed that if these are not performed properly, Maa Kali might get annoyed with us. Though the rituals are very simple and plain, but need to be performed with full dedication and devotion toward Maa Kali.
Kali Puja : Rituals Of Kali Puja
As Kali Puja takes place post Durga Puja, the rituals performed during the Puja are quite different.
There are several items used during the Puja, as follows:

a. Red Hibiscus
b. Sweets
c. Rice
d. Fish and meat
e. Lentils
Rituals performed on this day are-
Kali Puja usually begins at night and continues till the next day's dawn.
Various devotees throughout night visit temples of Maa Kali and observe a fast.
On the day of Kali Puja, Bhoga (sacred food offering) and Pushpanjali (a tradition of offering flowers to god) is offered to the Goddess.
As Kali Puja is celebrated on the day of Amavasya, where there is no light of the moon, the ritual of lighting the lamps takes place.
It is a belief that the rituals associated to Kali Puja vary as per the forms of the Goddess being worshiped and prayed. The rituals associated with Kali Puja are performed in an elaborated, extensive, and orderly manner.
Kali Puja : Forms Of Goddess Kali
During the time of Kali Puja, various forms of Maa Kali are worshiped. These forms are:
Shamshan Kali - One who stays near the cremation ground.
Adya Mata - This is an aggressive form of Maa Kali.
Tara Mata - She has a blue complexioned, but all other attributes are same as of Goddess Kali.
Dakshina Kalika - The one who was about to destroy the universe.
Chamundi - She is the furious form of Kali and Durga.
Mahakali - She is one of the greatest form of Kali.
Bhadrakali - She is the form of Kali, who is soft and gentle.
Now, as you know almost everything about the celebration of Kali Puja, it's turn to know about the five-day festival of Diwali in detail. Let's proceed.
Diwali : It's Turn To Know All The Five Days!
Diwali is a festival that lasts for five days. Moreover, the festival of Diwali is considered to be the most important festival by Hindus, especially in North India and West India. Diwali festival commences with Dhanteras and lasts for a period of five days, ending on the day of Bhai Dooj. Following are the days of the five-day festival of Diwali or Deepavali:
Dhanteras: It is the first day of Diwali, when people purchase utensils, precious ornaments, or anything that represents prosperity.
Chhoti Diwali: The second day of Diwali is known by various names as Chhoti Diwali, Naraka Chaturdashi, etc. This day of Diwali is popular as Chhoti Diwali as it marks the preparation for the main Diwali day or Badi Diwali. Chhoti Diwali is succeeded by Badi Diwali.
Badi Diwali: The day of Badi Diwali, literally meaning Big Diwali, is the prime day of the five-day festival of Diwali. On the day of Badi Diwali, houses are decorated to welcome Maa Lakshmi; Lakshmi Puja is performed in honor of Goddess Lakshmi. Crackers are burnt during night time and lamps, candles are lit at homes; this light penetrates into the darkness of worldly concerns and ignorance. The day of Badi Diwali marks the commencement of pleasure and enlightenment in every individual's life.
Govardhan Puja: Govardhan Puja is celebrated on the fourth day of Diwali, when Lord Krishna is worshiped in his 'Goverdhan Avatar'. This day of Diwali is celebrated with great enthusiasm in Mathura-Vrindavan.
Bhai Dooj: The fifth and the last day of Diwali festival is Bhai Dooj. The festival of Bhai Dooj is also known as Bhai Phota in East India. It is celebrated after two days of Kali Puja. On the fifth day of Diwali, relationship between a sister and her brother is glorified. On Bhai Dooj, sisters mark a Tilak on their brothers' forehead and pray for their longevity; in response, brothers pledge to safeguard them.
Want to have a glimpse of the detailed article on Diwali? Then, click here
Kali Puja : Celebration Of Kali Puja
Though the celebration of Kali Puja is done throughout the states of Bengal, Orissa, Assam, devotees observe the day with a more meticulous approach.
Kali Puja can be summarised by these lines:
O Maa Kali, you might be furious, aggressive, and angry,
But you would always be our mother.
An epitome of protector and saviour,
A mother who is always beside us.
Maa Kali, we pray to you with all our devotion and dedication,
Always keep your eyes on all of your children.
This Kali Puja, share Maa Kali's photos, images, and SMS with your loved ones and receive the blessings of Maa Kali.
AstroCAMP wishes all its readers a very Happy Kali Puja..!