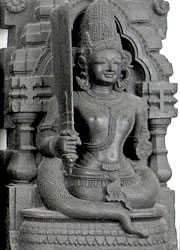 Ketu is considered a cruel planet in Hindu Vedic Astrology. However, it is not like that Ketu has only malefic effects on our lives. If a person has the influence of Ketu over him, he may live life like a king in a very short span of time. It is considered a planet of logical ability, knowledge, intelligence, spirituality, and imagination. Due to the blessings of Ketu, native will touch to heights in all areas of life and most importantly, it will lead the person towards spirituality. However, Ketu will create an illusion around you, which will lead to the native not considering anyone knowledgeable before him. However, if it is placed benefic in your horoscope, it will give you a clear picture. In 2020, Ketu will transit in Sagittarius sign. On 23 September 2020, it will transit in Scorpio from Sagittarius and remain in this sign till the end of the year. Ketu is always retrograde in motion, hereby it will move backward. Let's read the effects of Ketu on each zodiac sign during the transit: Know your Moon Sign
Aries
Ketu will transit in your 9th house from your sign at the beginning of the year.
You may pay a visit to religious places with the grace of Ketu this year.
There will be fluctuations in your economy and expenditures will be high during this period. Try to put a tab on it.
There may be arguments with your father at the beginning of the year.
Ketu will support you if you are thinking to go foreign.
You will think yourself very lucky in terms of your health.
In the September-end, Ketu will move from your ninth to eighth house, which can bring major changes in your life.
Due to this change, you'll develop an interest in researching.
Lay a foundation for something new, as it will prove to be beneficial.
Taurus
Ketu will transit in your 8th house from your moon sign in 2020.
You will be very much inclined towards spirituality this year.
You may perform any auspicious work in the middle of the year.
If you wish to do research in your studies, period from June to October looks good for you.
Your health will be good due to Ketu's blessings.
Your family life will seem chaotic.
You will get rid of any long running disease this year.
You will be stressed due to increased expenses this year.
You need to be very careful in your marital life.
You should refrain from lending money, otherwise ketu will give you troubles when the time of returning comes.
Gemini
Ketu will transit in 7th house from your Moon Sign in the starting of 2020.
Unmarried people may meet their life partner this year, but try not to make haste decisions.
For married people, this transit may bring with itself arguments and issues.
You will invest more in the middle of the year for your children.
There might be arguments related to land and property with your father.
You will not feel alone this year due to the arrival of your old friends.
Look out for every aspect when stepping into a business and try to avoid unnecessary arguments with your business partner.
With Ketu transiting in September, there are possibilities of a transfer in job.
Cancer
Ketu will transit in your 6th house in the beginning of the year 2020. Because of the influence of this transit, you may have to face challenges in your life.
3-4 months in the beginning will remain good for your career, however, thereafter, you will struggle a lot.
Students trying to excel in their competitive exams must work hard and concentrate, as there will be hurdles obstructing your way to success.
Marital life will be average but smooth.
Your enemies will try their best to malign your image during this time.
You may go on long drive with your life partner.
There might be arguments with your mother regarding any personal matter.
However, things will settle down soon.
Look after your health, as stomach related problems are expected to arise. You should avoid junk or fried food items.
Get your own
Horoscope
Now! Leo
Ketu will transit in your 5th house when the year 2020 begins.
There might be arguments with your seniors and due to that, you will face disputes for a longer period of time.
You may feel like falling in any illusion in the middle of the year. Due to that you will not find peace. This will hamper your decision-making skills.
Your marital life may hamper due to this problem. Don't let misunderstandings affect your bond.
Ketu will transit in your 4th house in September.
Due to this change, you should avoid any investment when it comes to land and property and do not invest your money in decorating your home this time.
Virgo
With 2020 beginning, Ketu will transit in your 4th house from your Moon Sign.
During this time, there won't be any mental peace, and you'll have to work hard to remain calm.
For your mother, this transit won't prove to be benefic, as it will affect her health.
There will be issues cropping in your family life.
Stay attentive when driving, as there are chances of getting hurt.
Refrain from investing in property, as the outcome won't be favorable.
Handle any challenge coming in your business with an open-minded approach, and do not make haste decisions.
After Ketu transiting in your 3rd house at the end of September, you'll travel a lot.
Main a happy and healthy bond with your siblings.
Libra
Ketu will transit in your 3rd house from your moon sign in 2020.
If you will go on long distance travels this year, there might be problems.
There might be arguments with your siblings due to misunderstanding.
There will be interest in religious travels with spirituality.
You will get full support of your spouse, however, you need to take care of your partner's health.
If you are a sports man, you will get benefited.
Do not trust blindly, and make it a point to verify before going ahead.
Your income won't be stable. On the other hand, there are chances of money being spent on the treatment of any family member.
Scorpio
This year Ketu will transit in your second house from your Moon Sign.
You need to control your anger otherwise, it may harm you.
You may argue with your father due to your harsh speech. Due to that you may suffer losses in your matters related to land.
Do not make fake promises, and be a man of your word if you have quoted something.
After March, you may be get rewarded by government or higher authority.
Your salary may get increased or you may get promoted.
Sportsmen or anyone working in the field of sports will be benefited.
Before investing your money, do a full research.
After Ketu transiting on 23rd September, you might deviate from your path. Concentrate and think before making decisions.
Sagittarius
This transit of Ketu will be in your Moon sign itself in the beginning of the year.
This year, you may feel pressured, confused or scared. Meditate and try to calm your nerves.
You may perform an auspicious work in the month of February. Also, you may go on a religious journey during this transit.
This year your health will remain good.
You should not take any important decision in your job or business.
Avoid arguing with your father, as your words can hurt him.
Losses may incur in the end of the year after the transit of Ketu on 23rd September in 12th house.
Get Instant Astrological Remedies Here
Capricorn
Transit of Ketu will be in your 12th house in the year 2020.
You'll travel a lot, and this activity will eat majority of your time.
There might be the chances of accidents during long distant travels.
You'll become serious in life and try to improve every aspect in the most suitable manner.
Due to this transit of Ketu, your behaviour will be really serious and aggressive.
You may experience losses in the beginning of the year.
After September, transit of Ketu will be in your 11th house.
Your financial conditions will become strong, as you'll discover new sources of income.
You may purchase new office.
Avoid any conflict with your kids, as their point of view definitely differs from yours.
Aquarius
Ketu will transit in your 11th house in the beginning of the year from your Moon Sign.
You may spend your money on buying new vehicles.
You will get promotion due to your good work at workplace. Also, you'll attain reputation, dme and respect.
Unmarried people may get married this time. However, married people will come across obstacles in their marital life. Don't let ego destroy the beautiful bond of love.
After September, there may be losses for you due to transit of Ketu in your 10th house.
Avoid making any investment, and be alert around your business partner.
Pisces
Ketu will transit in your 10th house in the beginning of the year.
You will find it confusing to take important decisions for the education of your child, work or family.
You may meet with accidents while travelling, hence you need to take care of it.
There will be happy and peaceful environment within your marital life.
Try your best to avoid any argument with your mother. Take her on a pilgrimage.
Luck will be in your favor if you work in sales and marketing.
After September, Ketu will transit in your 9th house, which will help you to involve in religious deeds.
You may get the opportunity of traveling abroad.
Look after your father's health.
We hope that you've found the information you were looking for. For more updates, come back.