Makar Sankranti in 2019 will be celebrated on 15th January instead of 14th. This shift in the day has arise due to the change in the planetary position of Sun. Hindu calendar is decided on the basis of minute calculations and changes in the position of planets. Most of the transitions of Moon are considered while deciding the dates of festivals in Hindu tradition but Makar Sankranti is one of those few festivals that are governed by Solar calendar rather than a Lunar one.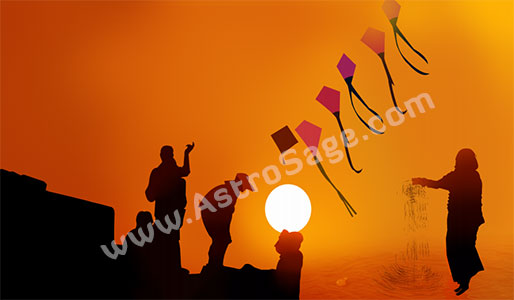 Every month, Sun undergoes a transition from one zodiac sign to another. The transition of Sun towards North (Uttarayan) is of great significance as it is regarded as the holy phase of transition owing to the end of Kharmas. Scientifically too, the day and night are of equal duration on this day, and the days tend to be warmer and brighter this day onwards. The day marks the arrival of spring and fertility. The barren and dull winter bids adieu.
Know the auspicious time in 2019: Muhurat 2019
Origin of the term Sankranti
The word Sankranti has been taken from sanskrit language i.e. Sankramana, which means commencement of movement. Makar Sankranti literally means the transition of Sun into Makar rashi (capricorn zodiac sign). This marks the end of winter season and beginning of crop harvesting. So, Makar Sankranti brings prosperity and hence is significant of all the transitions of Sun.
Various forms of the Festival
The festival is celebrated all across the nation in different forms and with different names. In Bengal, it is called Poush Parbon, while in Kerala we celebrate it with the name Makaravilakku, Pongal celebrated in Tamil nadu or Magh Bihu in Assam, Makar Sankranti is dedicated to worship Lord Sun and seek his blessings for a rich yield of crops. A tradition of flying kites is also associated with Makar Sankranti or Uttarayan in Gujarat.
Much More Than A Planetary Event
Makar Sankranti is much more than a solar event, it is the beginning of an auspicious period. Sun and Saturn are considered to be inimical planets. Throughout the year, it is only during the month of Magh, when Surya (Sun) enters the house of Shani (Capricorn). This period symbolizes the importance of relations as Sun forgets his anger and his son Shani welcomes him to his house.
Mythological Significance
As per the scriptures, when the sun is in Northern hemisphere (Uttarayan), it is the days of gods or devtas while during dakshinayan position of Sun, it is their night. This was the reason that Bhishm-pitamah, the grandfather of pandavas and kauravas, who had the boon of self-inflicted death did not leave his body and decided to stay on the bed of arrows till the Sun was again in Uttarayan position. It is believed that a person who dies on this day attains salvation since the doors of Vaikuntha are opened on this day. Also, Yashoda was blessed with Lord Krishna as her son because she had donated a betel leaf on this day. Charity on this day is considered to be especially beneficial.
Find out other festivals in 2019: Calendar 2019
Significance Of Dip In Holy Water
Ganga Snan is one major tradition involved with Makar Sankranti. Huge gathering of saints can be found near the river Ganges during this phase and Kumbh mela which is organized every twelve years exemplifies faith, devotion and spirituality. Makar Sankranti and bathing in holy water has remained accustomary over centuries. Goswami Tulsidas in his Ramcharitmanas has stated - "Maaghmakargati jab ravihoee, teerathapatihiaavtahaansoee." When translated, it means that after Sun enters in the capricorn sign in the month of magha, the lord of all sacred places resides in the Ganges and other holy waters.
Holy dip in the famous rivers is an integral part of the festival. Taking a bath in holy water is so prominently announced that in North india, people seldom call the festival as "Ganga Snan.' On the bank of holy rivers, lakhs of devotees take a dip to eliminate the ill-effects of the sins of their past life. The bath is followed by giving arghya to lord Sun and charity to the poor. An annual Magh mela is organized every year in Allahabad and this year it will be celebrated as the Ardh-Kumbh.
How it is celebrated?
Indian festivals are governed by scientific factors. The customs, rituals or tradition are based on facts. The weather conditions, changing seasons, as well as crops determine how a festival will be celebrated in a particular region. The festival of Makar Sankranti has a close connection with farms, agriculture and crops, and is thus called the harvesting festival. The festival is popular with different names in different parts of our country. The manner of celebration has diversity but the essence of the festival remains prosperity.
In Northern-india where the weather is cold during the time, Makar Sankranti is celebrated by gifting, donating and eating sweets made of jaggery and sesame seeds. In the morning, urad-dal khichdi is made and served after taking a bath early morning. Tawa or flat frying pan is not supposed to be used on this day, thus, people enjoy khichdi and kachoris along with other sweets.
In Punjab the cuisines include makki ki roti (chapati made of corn-flour), and sarso ka saag. People dance to music and folklores and celebrate the season of harvesting. The festival is known as Lohri.
Pongal in Tamil Nadu includes burning of wood logs, replacing old furniture and offering kheer (sweet made of milk and rice) to Sun God. People make, distribute and exchange sweets during the four day festival which includes worshipping cattle on the last day.
In Orissa, Lord Jagannath is worshipped after the holy dip. While in Gujarat, the day is observed as the International Kite festival.
Pilgrimage
Though the festival is more about crops and harvesting, the religious element of the festival lies in charity, holy dip and visit to religious places. On the auspicious day of Makar Sankranti, saints and commoners can be easily found near river banks and temples. Thousands and lakhs of pilgrims come to Sangam, Prayag in Allahabad just to take a bath in river ganga. Be it the bank of Ganges, Hooghly, Kshipra or any spiritual place, devotees will take turns in taking a dip in the river to free themselves of their previous and present life's sins. The holy bath or snan helps in get rid of pitra dosha and curses acquired by one's soul during its journey of birth and death. By celebrating Makar Sankranti, devotees pray to be freed from this cycle of birth and death, and attain Moksha. Makar Sankranti is a multifaceted festival that not only celebrates harvesting but life as a whole.