On July 12, 2016, Mars transit in Scorpio is taking place. Read the below given predictions and see how this transit is going to affect your zodiac sign.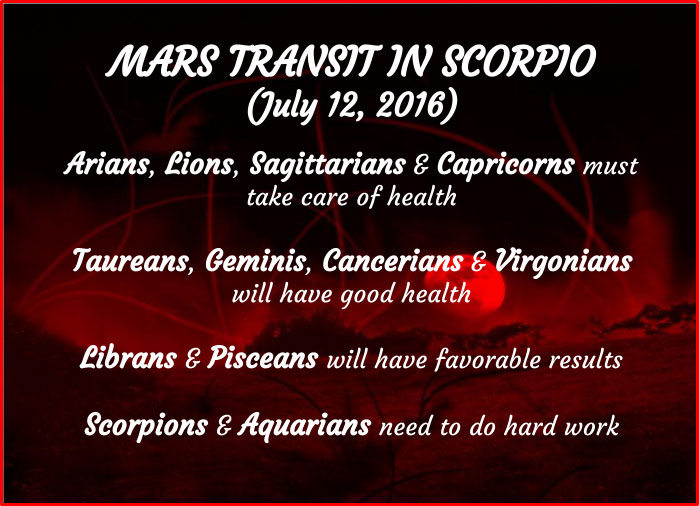 Now let us look at the effect of these combinations on each zodiac sign:
Aries
You will feel a little restless by some hurdles and might feel that seniors are trying to demoralise you. It will be difficult for you to maintain good relations with your boss as he might behave a little suspicious. So, to get away with all this, it is better to focus on your work to achieve targets. You might face change in job location. You have to take care of your health.
Taurus
Your hard work will result in great success. Someone might challenge you to get fit or to change yourself as per the situation. But pushing yourself to the extent that makes you uncomfortable, should be ignored. Spend some time in improving your personal and domestic life. Make sure you are with good people. You are more of a family person.
Gemini
This planetary position will not make much unfavorable changes. Hence, you will be successful in turning your plan into reality. It will be good to start something new with full enthusiasm and energy. You might behave a little impulsive regarding personal issues but avoid misunderstandings. Success is assured if you will work toward right direction.
Cancer
See the world with positive approach and things will be perfect. This planetary position might get you promotion. You will be able to find a way out of all the hurdles you will face. However, being sweet will help you acheive what you want. Long distance travelling will be very beneficial and will be thinking more about your children. Just have patience.
Leo
This phase is quite challenging for you as you might feel a little uneasy at times. Taking things lightly and having patience is the key for you. Too much of stress is not good for you especially if you have hereditary heart problems. If any property related issue is going on, handle the situation calmly.
Virgo
You will be feeling more bound to take extra care of your relationship. There are chances that your partner might fall ill and you might be stressed about it. If any relationship is facing legal issues, it will end now. Your expenses might increase. Your social circle might not support you at times. So, try to be more carefree and be careful while dealing with tools or machines.
Libra
You might find it difficult to understand your familial responsibilities and feel like delaying for some time. Financial life looks great as benefits through property or any other source is most likely to occur. Your marriage date or the discussion regarding it might postpone. Respect your elders and be alert as unexpected issues might bother you.
Scorpio
You will be enjoying the adventures and will love this new self of yours. You are now in the world of personal freedom. Career looks great in this planetary phase. You have to ignore being stubborn as it might keep you away from people you are close with. Avoid being rigid and take steps intelligently to ignore arguments.
Sagittarius
If you are planning to shift to other country, this time is very much favorable. You might feel confused in about everything happening in your life which might make you sad. Even though that sounds a little depressing, you can handle it all if you will be independent. Take care of your family. Forgive people as it will be a relief. Your expenses might increase.
Capricorn
You will get benefits from properties and spend more on assets. You might buy a new house. Maintaining a good relation with elders and coworkers is important for you. You will be successful in crossing all hurdles. If you will work in right direction, your dreams will come true. Avoid junk food as it might create health issues.
Aquarius
Change your ideas into reality. This is the time when you will be more confident to build up your career. There will be times when you will feel pressurised and it might irritate you. But keeping yourself calm and continue your work will make your life peaceful. You might not get much time for your personal life due to access work. Maintain a healthy regime to remain fit.
Pisces
Start a healthy routine as your health should be the first priority now. Physical fitness is very important to do good in career. 'Astha-Laxmi' is going on during this period and you will get lot of benefits. You might find it difficult to take decisions but being focused to your goal will fetch goodness. You should value your family tradition and follow right path.
Want to know if the effect of exalted planet? Click here: Exalted Planets
The above predictions of Mars transit in Scorpio is prepared by Astrologer Vijay Goel.
We hope the predictions help you live your life in best possible way.