By Suchitra Das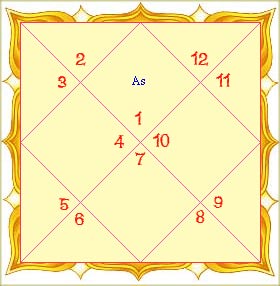 Jaimini Navamsha Dasha is a self-contained astrological way of predictions through Navamsha Chart. In one of my previous astrological articles, I have discussed about the scope and a few fascinating facts of Jaimini Chara Dasha and also about its great value in astrological predictions. Astrological predictions through Jaimini's Navamsha Dasha is solely based on Navamsha Chart (D-9 chart) and does not require the help of any other astrological charts. In this scheme of prediction, the first and foremost important thing to properly understand the seven Jaimini Chara Karakas (significators covering different aspects of life) and Sthira Karakas. The table below shows the different aspects governed by the Chara Karakas and Sthira Karakas.
Chara Karakas
Area Governs in a horoscope
Sthira Karakas plus Chara Karakas
Signification covered
Atmakaraka (AK) Planet with 1st highest degree
Lagna and all first house significations like physical body, health, etc.
Sun & BK
Father
Amatyakaraka (Amk) Planet with 2nd highest degree
10th & 11th house like profession, income etc.
Moon & MK
Mother
Bhratrikaraka (BK) Planet with 3rd highest degree
3rd & 9th houses like short journeys, religious inclinations, etc.
Mars and BK
Younger co-borns
Matrikaraka (MK) Planet with 4th highest degree
4th house significations like mother, property, etc
Jupiter & BK
Elder co-borns
Putrakaraka (PK) Planet with 5th highest degree
5th house like education, wisdom, children etc.
Venus & DK
Wife & husband or the person in the similar line
Gnatikaraka (GK) Planet with 6th highest degree
6th, 8th & 12th house significations like disease, enemies, etc.
Jupiter & PK
Offspring
Darakaraka (DK) Planet with 7th highest degree
7th house like Spouse, partner, business, etc.
Other salient features of Jaimini Navamsha Dasha
As in the case of Chara Dasha, here also all moveable signs and karakas/planets posited therein aspect all fixed signs except the one adjoining to it. Similarly, all fixed signs and karakas/planets posited therein aspect all moveable signs except the one adjoining to it. Planets/Karakas in common signs aspects other three common signs.
In the case of Navamsha Lagna is odd sign the Dasha sequence starts from the sign itself. In the case of Navamsha Lagna is even sign the Dasha starts from the 7th sign from the Lagna.
Counting of year of Dasha is done by direct order in case of odd Rashis and in indirect/reverse order in case of even Rashis by way of as many houses the Rashi Lord is away from the Rashi by treating one Rashi as one complete year. In case of Rashi Lord is in its own Rashi or in 12th house from the Rashi concerned, the Rashi Dasha assigned would be of 12 years for that sign.
Sub-periods are in months corresponding to the full Rashi Dasha and are in direct sequence coming one after another. For example, if Navamsha Lagna is Gemini (an odd sign) and Mercury the Rashi Lord is in Scorpio, the Main Period at Birth would be of Gemini for six years since
Rashi Lord Mercury is 6th house away from Gemini counting in direct order as applicable for odd sign. The sub period would be of six months each starting from Gemini in direct order and ending up in Taurus (the 12th sign from Gemini) during the whole of 6-year span of Gemini period.

Now, let me analysis a few important events, both favourable and unfavourable in the life of the nativity of the model horoscope through Jaimini Navamsha Dasha scheme as case study.
Model Navamsha/Swamsha in tabular format of a male nativity
| | | | | | | | | | | | | |
| --- | --- | --- | --- | --- | --- | --- | --- | --- | --- | --- | --- | --- |
| | Aries | Taurus | Gemini | Cancer | Leo | Virgo | Libra | Scorpio | Sagittarius | Capricorn | Aquarius | Pisces |
| D-9 & H/No. | 11H Rahu (Odd) | 12H (Even) | Lagna Jupiter (AK) Saturn (DK) (Odd) | 2H (Even) | 3H (Odd) | 4H (Even) | 5H Venus (BK) Mars (MK) Ketu (Odd) | 6H Mercury (GK) (Even) | 7H (Odd) | 8H (Even) | 9H Sun (Amk) (Odd) | 10H Moon (PK) (Even) |
The native is a chronic Asthma patient since his childhood. The Dasha running at birth was of Gemini and the 6th house from Rashi Dasha Gemini (an airy sign) is Scorpio (an watery sign) occupied by Mercury (GK), significator of diseases without any benefic aspect clearly indicating airy – watery combine complication in the form of chronic Asthma.
The native had his school education in a famous boarding school during the period from 1970 to 1977 during Leo Dasha. 5th house from Dasha Rashi was sign Sagittarius aspected by AK, DK (from intelligent airy sign Gemini) & PK (5th lord for education from a benefic sign) clearly indicating good education during the period.
The native had his marriage in January 1989 at the onset of Libra Dasha running between 1988 & 2000 because Libra Rashi contains Venus, the Jaimini Sthira Karaka for marriage and 7th house from Dasha Rashi has Rahu, another significator of marriage.
The native has his first child in August 1990 during Libra – Scorpio Dasha. 5th house from Scorpio is occupied by Moon (PK – the significator for child) and aspected by Jupiter (the Jaimini Sthira Karaka for child). A stillborn child during the period of Libra – Sagittarius Dasha in 1991 as 7th house (the house for 2nd child) from Dasha Rashi and 5th house from Sub-Dasha Rashi contains malefic Rahu. The native got a male child in 1999 during the period of Libra – Leo as the 9th house (the house for 3rd child) from Dasha Rashi contains Jupiter (the Sthira Karaka for progeny) aspected by Moon (PK – the Chara Karaka for progeny). The 5th house from Sub-Rashi Dasha Leo is also aspected by Jupiter (the Sthira Karaka for children) and Moon (PK – the Chara Karaka for children) thus fulfilling the Dasha promises.