By Rajeev K Khattar
Priyanka Chopra is currently one of the hottest stars of Bollywood and she has many reasons to celebrate life. She is popular to most Indians because of her looks, her work and the fact that she has a very clean public image. All her hard earned success hasn't changed her and Priyanka Chopra is still the same happy and beautiful Girl-next-door.
But success in one field doesn't make you invulnerable to other things and just recently Priyanka Chopra's father, Capt. Dr. Ashok Chopra, passed away. Priyanka Chopra has always been outspoken in her love for her family, especially for her Dad and one can imagine how distraught she must be these days. Astrologically, her future seems to be headed through a rough patch and this is worrisome for her fans.
Astrology Predicts Hard Times for Priyanka Chopra
As per the most reliable sources, Priyanka Chopra was born on 18th July 1982 at 00:30 in Aries ascendant at Jamshedpur. The position of the planets at the time of her birth in her horoscope was:
Aries ascendant
The analysis of Priyankas horoscope according to Lal Kitab is as follows:
Priyanka doesnt come from a filthy rich family. She has earned all the wealth by herself only due to her own efforts and of course due to blessings of positive Moon in the 2nd house. According to Lal Kitab, if the native has Sun in the 4th house and he/she is dutiful toward the parents then the Sun blesses the native with name, fame and wealth.
Priyanka Chopra and Her Father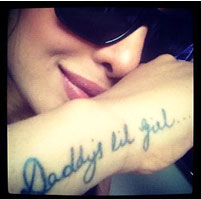 Priyanka is known to help, respect and love her parents to her core. She was so attached to her father that she even tattooed, "Daddys Lil Girl", on her wrist. Rahus close proximity from 3rd house with Sun in 4th house didnt let her enjoy her fathers love for long. Despite this, Ketu in 9th house stays strong, assuring her of progress through hard work. Jupiter is in the 7th house position and that coupled with Ketus 9th house placement ensures good luck for Priyanka every time she travels .
Her father lost a prolonged battle with cancer and breathed his last at a suburban hospital on 10th June 2013 . Priyanka is 31 years old. In the 31st birth year (Varshphal) 2012-2013 , the Lal Kitab Varshaphal of her horoscope is as under:
Jupiter in the ascendant
Mars and Saturn in 4th house
Moon in the 5th house
Ketu in the 8th house
Mercury , Rahu and Venus in 11th house
Sun in 12th house
Mars placement in the 4th house clearly indicates lack of happiness and problems for her mother .
Lal Kitab noticeably states that whenever Rahu comes in the 11th house of Varshphal Kundli (Annual Horoscope), the father of the native suffers. The Suns position is also weak in the chart due to its placement in the 12th house. The planetary position was indicating only bad news for her father in this birth year.
The Future Will Need Priyanka Chopra To Be Strong
Her next birth year (Varshphal) starting from 18th July 2013 has Ketu in the 4th house and Moon in the 7th house. This position is very unfavourable for her mothers health. Rahu in 5th is capable of giving her unexpected jolt. By performing astro-remedies, many of these negative happenings can be controlled to a good extent.
Currently she is going through (Vimshottari) Saturn sub-period in Jupiters major period. Her next sub-period of Mercury will start from April 2015 and will last till July 2017. This period will bring her mega success in all her ventures and she will win many awards.
Best Wishes for Priyanka Chopra
Bad things happen in every persons life but life always moves on and the passage of time will heal Priyankas broken heart. The support of her friends, family and fans will guide her through these tough times and tomorrow she will be stronger than she is today. May her Father's soul rest in peace. May Daddy's lil Girl (sic) find peace too.