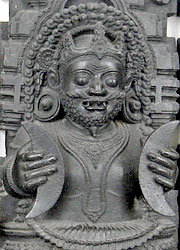 Rahu Transit 2018 may get you out of trouble. Rahu is a shadow planet. Rahu is famous for giving sudden results in life. For political life, Rahu has been considered as an important planet. Rahu is also a cruel planet. This planet revolves like a fish, so a person who comes under the influence of this planet is badly trapped in a pool of troubles. Rahu is composed of dark qualities. Its daily speed is three kala eleven vikla. Rahu Transit 2018 has got a lot inside to amaze you.
Rahu is transiting into Cancer zodiac. In 2018, Rahu will travel within this zodiac sign only. During the transit, Rahu will roam in a single zodiac for a period of 18 months. Let us know how Rahu will affect all 12 different zodiac signs in the year 2018.
Aries
Rahu transit 2018 will happen through your zodiac sign in IV house. As a result, you'll have to struggle for most of the time. There is a possibility of loss in government tasks. Take good care of your mother. Professionals in jobs need to be patient during every situation this year. Students will receive auspicious news unexpectedly.
Professionals employed in jobs might be unable to give time to their spouse due to excessive office work. This will create the possibility of family distress. Take special care of your health at this time. Avoid eating outside food or else you may complain of pain in the stomach. Avoid fried food otherwise there may be a risk of cardiovascular disease. Drive your vehicle carefully this year because there is a fear of an accident. Merchants need to be careful with partnerships, otherwise there are high chances of getting cheated.
Remedy:- On every Sunday, grind seven kinds of grains, prepare small balls using this flour and feed fishes.
Taurus
This year, Rahu transit will be in your III House. During this year, Rahu's influence is likely to create an atmosphere of peace and enthusiasm. As a result, the hurdles faced by employees will be removed and all works will be completed. The confidence of students will scale heights.
You will be respected in society and business. Marital life will be good. The desire of a spouse will be fulfilled. You will spend time in a fun-filled manner. In the court cases, you will win and the enemy will be defeated. Friends will give you full support. Your confidence will strengthen you financially. This year, your relationship with brothers and sisters can become bitter.
Remedy:- Recite Saraswati Chalisa
Gemini
This year, Rahu transit from your zodiac sign into II House. The transition of Rahu in II House will ensure monetary benefit in this year. Businessmen will get profits and there will be an enhancement in business. Your mortgage property is likely to be free this year.
As per Rahu Transit 2018, students will need to do hard work in studies or else the result may be in contrary to your expectation. This year you might get involved in court cases, so be careful. There is a possibility of fetching economic benefits from land and real-estate. Stress in marital and family life might be the reason behind your stress. You might have to face troubles related to tooth pain or mouth-related diseases during this year.
Remedy:- Put five almonds and one green coconut in running water
Cancer
This year, Rahu is transiting in your zodiac sign. Due to Rahu's transition from your zodiac to the I House, you might have to engage in intense analysis. Businessmen will plan big business plans. You will achieve dignity. Your good work will allow you to leave an impact on your mind. People employed in a job are likely to remain busy in their work. Pleasure will be attained during execution of a task and the same would lead to better results in the future.
Student brigade should save their memorizing power. A failure to remember things on time will make you disheartened. So, you need to take care of your concentration level and stability. Marital life will remain normal. You might be unable to spare time for your life partner. Business will work well in this period. Friends and well-wishers will render you support. Take care of your health. Physical weakness might be felt. The possibility of disease in the neck and chest area might increase.
Remedy:- Worship God Bhairav ​​on Sunday.
Leo
This year Rahu is transiting from your zodiac sign into XII House. You will get an opportunity to go on a long journey. Professionals will get introduced to new people, which will lead to possibility of profits. There will be some reduction in debt. Students will get success after hard work. This year might be a little stressful for you.
Life partner is likely to suffer, so take special care of his/her health. People employed in companies will progress and receive respect. There is a possibility of an increase in expenses. This year you may get attracted towards spiritual meditation. In this period, you may get stuck in any major trouble. There may also be trouble related to pain in eyes. Avoid fights and arguments or else you may get trapped in legal proceedings.
Remedy:- Recite Gayatri Kavach
Virgo
This year Rahu will transit from your zodiac to XI House. You will get business success as well as help from all corners. Those engaged in jobs will receive good news about monetary benefits and promotion. Your officials will be happy with your work and you will get dignity and achievement. There will be a happy atmosphere at home after the birth of a child.
New sources of income will be created from new projects. There will be contentment in mind. Stress might increase due to over expenditures. Therefore, avoid spending frivolously. The health of the child might remain poor. During this year, you will spend time in philanthropic tasks. All your invoices will get cleared during this year. Support of life partner will be received. There may be disputes or loss in matters related to transactions. Hence, take special precautions.
Remedy:- Donate radish.
Libra
During this year, Rahu will transit through your zodiac into the X House. As a result, your chances of getting involved with political parties will increase. You will get benefitted from them. People will treat you with respect. There can be an environment of loss and opposition in the job. The officials at the workplace might remain dissatisfied with your work. On the other hand, your juniors might also remain dissatisfied with you. There is a possibility of loss in business. So, do not do any new work during this time period.
The mind will remain depressed and sad. Take special care of your father's health. Relationship with your spouse will remain good. In competitive examinations, students will get more success than expected. From health point of view, you might feel tired and helpless. Daily morning walk will be beneficial for health.
Remedy:- Worship Lord Shiva and perform Rudrabhishek
Scorpio
In this year, Rahu will transit from your zodiac into the IX House. You may have a sense of disappointment within yourself. There may be excessive irritation and anger in your nature. The family environment will not be too good. Suddenly, there will be a possibility of long distance travel or an overseas tour. You may face hassles while traveling.
There might be ideological differences with your father. Having a lot of mental stress might ruin your health. Despite a degrading financial situation, your courage will remain intact. Students will receive honor and respect. There is a chance of settling abroad for higher education. There will be compatibility in marital life. Your siblings are likely to get married this year. You will also enjoy pilgrimage.
Remedy:- Mix sugar in the Panjiri prepared using flour. Feed the ants with this mixture served in a coconut kernel.
Sagittarius
In this year, Rahu is transiting from your zodiac into the VIII House, which will create the possibility of accidental gains in lottery, gambling and stock market. Suddenly, you may have to go on a religious pilgrimage. You are likely to receive money from people of the opposite sex.
Your body might get hurt. Hence, walk and drive carefully. There is a probability of you undergoing an operation during this year. The effect of Rahu might cause you physical pain. There will be a possibility of debate with the spouse. Children may suffer. Hence, do take care of your son's health. You might experience obstacles in every work. Normally, this time will not be favorable for you. This year will also witness a possibility of traveling abroad.
Remedy:- Donate cereal grain equivalent to your weight
Capricorn
Rahu transit 2018 will happen in the VII House. As a result, you may have differences with your spouse. People involved in jobs might feel humiliated and because of this you may break down mentally. Therefore, work with patience.
In this year, there is a good possibility of transfer related to job. You'll receive support from others as well. Life partner may have physical trouble. Merchants may have to take loans for business operations. Your friends might envy you. Unmarried people may get married in this year. You will get help from your brothers and sisters.
Remedy:- Recite Durga Saptsati.
Aquarius
Rahu will transit from your zodiac into the VI House. You will get victory in court cases and the enemies will be defeated. You will remain stress-free during this time period. Business class will be very successful in business. Relationship with life partner will remain sweet. A meeting with old friends will prove beneficial. There will be possibility of success and profit in sports etc. You may have to face opposition from your loved ones.
Horoscope pertaining to Rahu transit 2018 says, you will be moving forward towards economic growth. Success and wealth will be achieved in the job. Avoid eating outside food or else there is a possibility of suffering from liver-related diseases. Success will be achieved after struggling at the workplace.
Remedy:- On the new moon, pour milk mixed with water on a Peepal tree.
Pisces
Rahu will transit from your zodiac into the V House. In this year, you will be more focused on romantic relationships. The economic condition of people employed in companies will remain strong. You might stay mentally stressed. Also, you may experience bitterness in relationship with your spouse.
Students will receive success and respect in education. Keep in mind the health of your children. In this year, you are likely to remain confused. Due to stress, you may lose interest in your job. You are likely to benefit from lottery, gambling and stock market. In this year, your mind will remain stressed because you won't receive the desired help from friends.
Remedy:- Donate a few sesame seeds and barley in any Hanuman temple or at some religious place.
For all astrological solutions including Gemstones, Yantras etc, visit: AstroCamp Online Shopping Store