Sun, the King of all planets, will enter zodiac sign Pisces on March 14. This change in planetary position will change your luck as well as your life.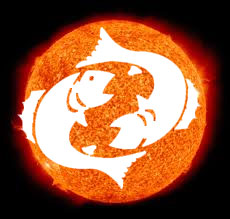 King of planets, Sun will transit into zodiac sign Pisces on March 14, 2016. You will experience major impact of this transit, if you are going through Dasha (period) or Antar Dasha (sub-period) of Sun.
Let's discover effects of Sun transit in Pisces for all the signs :
Aries
Arains might experience a decline in their health. Your mental situation will change constantly. You need to devote time to yourself. Avoid eating junk food, else stomach disorders are possible. Love life might get affected, but you can overcome all the misunderstandings by the right use of WhatsApp. Married life will go great. Avoid using computer and cellphone excessively to keep your eyes safe. Spirituality might decline a bit; however, it won't affect much. Your child might get harm. You will waste your energy on social networking media such as facebook and WhatsApp.
Taurus
You will try to help others. You will remain mentally fit. Possibilities of wealth gain are quite good. Try to add Yoga in your daily regime, otherwise health might give you reasons to worry. You would love to spend on junk food. You would remain concerned for your clothes, appearance, and beauty. Women might use over makeup or might use expensive perfume. You are expected to update posts about yourself on facebook and WhatsApp. However, you will use them in limit.
Gemini
You will use communication sources a lot and will stay connected to facebook and WhatsApp. You will invest a great amount of time in them. You will also use computer and cell phone excessively. You are a jolly person and this trait will increase further. You might use liquid items more. You might start getting up early in the morning. Your married life and personal relations will remain healthy. Reduce intake of alcohol, else you might become the victim of allegations. Though health will remain fine, but carelessness might take you to hospital.
Cancer
Your inclination toward spirituality will increase. You are not a very technical person. Expenses related to internet and mobile will increase suddenly in the last phase of the transit. You might become conscious regarding your clothes and appearance; however, your interest will be less this month. You won't give up your liking for perfume. Performance at workplace will remain average. You will give time to your family, but some differences are also possible. To end these differences, you might gift them something. You will hunt for online shopping websites, as you might purchase something. Things look fine from your children's end.
Leo
You might feel lack in your courage in the beginning of the transit. However, you will get control over this situation with 2-3 days. Health might give troubles, but not for long. Your concern for money will prove useless and you will arrange money easily. Major differences are expected with spouse. You might lack in punctuality, but you will compensate it with your hard work. You are very focused on your personality and this time also, it won't get affected even a bit.
Virgo
You are a creative person by birth. You will come back home at time and won't give your spouse any reason to complaint. You might have to expend a lot on your life partner. You should wear light color clothes. You might get harmed due to your children. You will find it difficult to get peace; hence, try to take help of Yoga. Thoughts will keep on changing for religion and spirituality. Tension will be there for love life. If you are into extra marital affair, keep your phone at a safe place.
Libra
You will feel happy during this phase. There won't be major tensions. You will continue talking via your phone and WhatsApp. Your way of talking attracts women of your sign toward you. For this reason, you get heavy telephone bills. Health might get affected a bit, try to start morning walk of 4-5 kms to overcome it. Finances will remain stable. Your belief in god might decline a bit.
Scorpio
Either your cell phone might get malfunctioned or it might fall somewhere. You will relish over high calories food. You will enjoy sweets as well. Love life will remain cordial. There is nothing to worry about. You will turn extremely religious. You might feel like shopping for new clothes and you will do it via online shopping. Be very careful while doing this, otherwise you might face some problems.
Sagittarius
Discussion is possible over immovable property. You might get your home renovated. Health will remain good. You will enjoy good relation with your wife. Expenses will increase. Your personality will remain energetic as always. Women will try to look more beautiful.You will do well in studies. You will fool others with your fake spiritual side.
Capricorn
Problems are possible from servants. Though you will get financial gain, but this money won't stay for long. Health will remain good, but some natives might get affected by viral fever. You will enjoy good mood. Be careful about your eating habits. Stomach disorders are possible suddenly. Minor tiff is possible at workplace. Love life might lack the charm. You will enjoy good bond with your wife.
Aquarius
You will get success in your endeavors. You will enjoy good mental state. However, you might delay your works. You will feel concerned about your dressing sense. You might get toward females. Love life looks fine. Generally, your relationship ends soon. Conjugal life will be cordial. Financial profit is possible from in-laws. Avoid alcohol and heavy food.
Pisces
Disputes are possible in personal life. You might travel to distant places. Conflict is possible with any family member. There are good chances of profits. You will perform good at workplace. Normal fever is possible. You will have good life life. Despite the tiffs with spouse, you might get profit from him/her. Financial life looks good. You will remain punctual and value time in daily life.