Tarot is not just a way of predicting future with a deck of cards, but a powerful tool to give an overview of our coming life. What do these magical cards have for you in 2016? Is it love, success, money, disappointment or something else?
Aries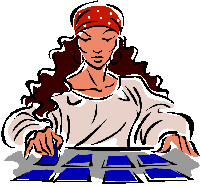 Arians are going to be lucky throughout this year. Not once or twice, but many times you will get opportunities to step more closer toward your ambitions. A sense of dissatisfaction will be felt in personal life. We suggest you to be calm and let things settle on their own, don't react to the situations impulsively. Try to accept the reality and wait for the right time. You need to figure out the reality of your life by analyzing what you have and what you want. To take yourself close to success, taking risk in career is important. However, we suggest to be extremely careful, as your actions and decisions will directly affect your wealth and savings. You will use your diplomatic side to turn things in your favor at workfront. Besides this, manipulation - a trait you are expert at, will also help in cherishing glory. Be a social animal and come in contact with as many people as you can. One thing to be kept in mind is getting in contact with only those who have the potential to help you in future endeavors.
Read Aries Horoscope 2016 Here
Taurus
Taureans, this New Year is all about fun, party, laughter and expanding your social zone. Most of your time will be spent in enjoying good times with loved ones. Harmony and mental peace you were yearning for long will make way into your life this year. Things will go as per your will, as a result of which you will accomplish your goals more practically. As vacations and holidays are going to take your time, it is suggested to accomplish important endeavors and projects on time. Hectic schedule and too many tasks will turn you into a busy bee. During the mid of this year, you will take really important decisions. Everything done this year will affect your life in the future life. Without taking any break, you will pick tasks one by one and make sure to complete your targets on time. Keep yourself away from illegal things, else you will put yourself in major troubles. Taureans, try to be a bit more emotional on the exterior like you are from inside.
Read Taurus Horoscope 2016 Here
Gemini
2016 is a call to turn your dreams into reality, live your desires and cherish everything you have wanted since long. Innovative ideas and skills will swirl in your mind. As a result of this, you will find yourself more close to your goals. Though success is assured this year, still taking help of elders and experienced people will double up these possibilities. Under every situation, avoid going over-confident. You need to widen your thinking zone and see life with a different view. We all avoid risks, but sometimes taking risks turn out to become our best decision. You can also think about the same this year. Before spending money like anything, evaluate your finances and check whether or not you are spending on the right things. Be very careful regarding your love life and don't take decisions impulsively. Kill your ego, burn your argumentative nature and try to keep transparency in your personal life. Accept the challenges life awards you with and show your best side by coming out of these difficult situations without any external support.
Read Gemini Horoscope 2016 Here
Cancer
Cancerians, life wants you to bring stability and sincerity in your present and future time. You need to control your mood swings and think more practically. Besides this, bring an end to your careless behavior. Let your charming personality spell its magic on everyone and help you progress in every dimension of life. Life is uncertain and there's no doubt that we can't be sure about anything, but yes, we can surely try to set up our goals. Once you are done with this, you can start proceeding in the right direction. 2016 is the year to go closer to those who understand your abilities and worth spending time with. You might feel trapped by the past memories; however, try to ignore them and start a new beginning. Many opportunities are awaiting you, don't waste time and grab them before it gets too late. Day dreaming has never helped anyone, avoid it and take things in your hands.
Read Cancer Horoscope 2016 Here
Leo
Lions are going to lead a simple life in 2016. Show off, high standards and materialistic pleasures will not please you this year. If you think you are right, don't hesitate in standing for yourself, even if you have to stand alone. Cover your weak points by turning flawless in your tasks. Ups & downs are part of everyone's life, don't over think and deal such situations calmly. Avoid trusting people no matter how close they are to you and how well their behavior is. Don't rush into anything and be very careful & selective in picking up your tasks. This year is the time to bring balance in your personal and professional life. Good thing is that your intuition power will become strong this year. Using this powerful quality of yours, you can plan your future actions and decisions. Lions, don't force yourself on others and let them have their own space. Everyone has their own views, accept this fact.
Virgo
Virgos will have a prosperous life in 2016. During this year, you will take life seriously and with maturity. Your social circle will increase and so will your contacts. All these changes will do wonders for you future life. Most of you will realize your responsibilities and try to fulfill them in the best way. Some of you are expected to turn spiritual this year. Convert this year into a meaningful phase of your life by improving areas you think you are weak at. However, it would be good to listen to your inner voice and don't believe what other say or want you to believe. Be calm and don't go over emotional. Mistakes done in previous affairs need to be avoided now. You will come across lifetime opportunities, don't let them go wasted and make the best from every chance life gives you. Put your best foot forward at workfront and use the best of your skills. Get ready to shine, as your flawless work will please your seniors and colleagues. Fame and glory are assured this year.
Read Virgo Horoscope 2016 Here
Libra
Life will become adventurous for people born under Libra. Your boring life will change overnight and you will enjoy it getting totally happening. You will experience tremendous changes coming in your life. Good thing is that you will have the courage and zeal to welcome these changes and adapt accordingly. Joy, happiness, fun and harmony will make way in your life. As a result, you will turn more optimistic. It would be good to act practically rather being emotionally. You will see betterment in your life in the second phase of this year. It is suggested to work in team and avoid working individually. However, make sure to take up tasks as per your ability only. If you think you can't do everything, don't take it in your hands. You have to follow this advice not only in professional life, but personal life as well. Love life will give you reasons to cheer and have fun.
Read Libra Horoscope 2016 Here
Scorpio
2016 is meant for new changes, beginnings, commitments and ambitions. No matter how difficult the situation is, you will battle with it courageously. Personal and professional life will go through noticeable changes. If something is not important to be done now, avoid getting into it. Middle of this year will lead to some problems which will ruin your mood. To get rewards as per your wish, try to bring things under your control. Piece of advice for you is to burn feelings of jealousy and anger. Let go off all the negativity from within and try to think positive. At difficult times, it is our loved ones who stand by us; hence, try to improve your bonding with them. Clear all the misunderstandings and problems. You can expect love in your life this year; however, it would be good to keep no expectations in return. Be relaxed and just wait for the right time, you will get everything you deserve.
Read Scorpio Horoscope 2016 Here
Sagittarius
Sagittarians, 2016 is the year when you should think about grooming your personality. This will do wonders for your overall development and you will experience rise in your self confidence. You will look for new ways to progress in life. It would be good not to waste your time and energy in things which are not important to you. Your focus will shift on securing your future and achieving a successful life. It seems that while spending time on new connections, you might ignore some of your old bonds. During the last phase of this year, you will take some really important decisions. If you find some people or things becoming a hurdle in your development, maintain safe distance from it. Follow your heart and don't allow any fear bother you.
Read Sagittarius Horoscope 2016 Here
Capricorn
Natives belonging to this sign will take steps closer to their goals and dreams. Positive changes will knock your door throughout 2016. Success and prosperity will enter your life, if you distance yourself from all the things depicting stress and negativity. It is suggested to be in your limits and not giving even a single chance to anyone to taunt you. Don't let others rule you in any way. Be self dependent and take your own decisions. Getting under influence of others and acting as per their will is something you should avoid. You might face misunderstandings with either close friends or some relatives. It would be good to resolve every problem, as time will increase the tension. Let people say what they want, even if they criticize you. All you need to do is, keep your best foot forward in everything. For mental pleasure, make plans to go on holidays or vacations with family and friends. If you are dating someone, this year is good to tie knot with your lover.
Read Capricorn Horoscope 2016 Here
Aquarius
Get ready to turn social animals this year. This will help in excelling at workfront. 2016 will improve your bonding with family and friends. You will handle every situation smartly using your diplomatic nature. Don't trust anybody too soon and don't share your secrets with them. Avoid getting into useless discords and don't involve in matters of others. However, maintain safe distance from arguments and tiffs. Make sure others don't get the authority to interfere in your life. Relations which affect your mental peace need to be discarded in 2016. You might take some harsh decisions. You might not like this this now, but its results will amaze you in near future. Don't waste your money, energy and time in useless activities like useless trips.
Read Aquarius Horoscope 2016 Here
Pisces
2016 will give you freedom from the restrictions and limitations which were stressing you from long. Dreams and desires which you were yearning for long will come into action this year. Your decisions might hurt others and they might go against you, but you seriously need to take them now. Forget about pleasing everyone and focus on achieving your goals. It might sound selfish, but sometimes you just have to think about yourself. Legal problems are possible in the second phase of this month. Maintain distance from opponents, as they will try to stress you. Your friends might cheat you, be careful while trusting them. You will have a prosperous professional life owing to your hard work. You are expected to spend on gadgets this year.
Read Pisces Horoscope 2016 Here
This was all about Tarot horoscope for 2016. Use the best of these helpful readings and ensure success and glory this New Year. We wish you all the best!