On April 30, 2016, Venus will combust in Aries. The planet of love & beauty will definitely put some effect on every zodiac sign. Now, put all your curiosities aside and scroll down to read Venus Combust in Aries.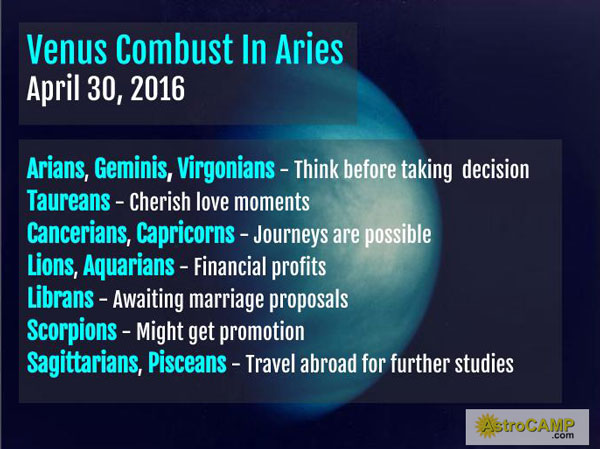 Aries
Arians, combust of Venus in Aries will make many new opportunities for those who are working; also providing new source of income for businessmen. On the other hand, your personal and financial situation might find it difficult to cope up with different situations. During this time period, you need to make wise decisions. However, health should remain on the top priority. As time is good, you can make proposals.
Taurus
Taureans, Venus combust in Aries will give businessmen a chance to go on successful work related trips. As per predictions, if you start business related to fire, electricity, or mechanics, good results are expected. However, this might affect your health. So, take special care. Whereas, married couples will cherish good moments during this time. Also, your personal desires will get fulfilled. Lastly, singles may find love of their life.
Gemini
Geminis, during combustion of Venus in Aries, all your wishes will come true based on your good intellectual power. Folks who are involved in trading, take decisions sensibly. Be careful as someone might deceive you. Furthermore, your health will be fine; while familial issues might be faced by some. Lastly, love is in the air for you.
Cancer
Venus combust in Aries will prove to be a great time for Cancerians. Their income will be gainful with many successful chances coming on way. Cancerians, who are preparing for government exam, will achieve good results. While you will be traveling for many business trips. Family bliss will be obtained, but be careful about parents' health. Moreover, in hard times, soulmate will prove to be a great support.
Leo
Lions, be prepared as Venus combust in Aries will become a high point in your career. On the other hand, for servicemen, success may come with a little delay. At office, some brawls with seniors are possible; thereby, try to avoid them. Moreover, profits will be flourished through business; and your married life will be spent beautifully. During this phase, you need to focus on your elders' health at home. Lastly, time is not favorable to confess your love.
Virgo
Virgonians, Venus Combust in Aries will provide good chances in professional life. Thus, clear your doubts related to it before it's too late. Also, maintain good relations with your colleagues. Businessmen are required to take wise steps. To enjoy marital bliss; have faith on your lover, impress him/her by giving gifts. Lastly, take care of your health.
Libra
Librans, a great time has arrived for office goers, all like a surprise. Also, for businessmen who are involved in iron industry. During this Venus combust in Aries, take special care of family happiness. Folks who are married, you are advised to avoid getting into any dispute. Health is wealth; thus, it needs to considered the most important. Doing Yoga and meditation on daily basis will help you to overcome every illness. Furthermore, bachelors may hear wedding bells soon.
Scorpio
Scorpions, Venus combust in Aries has arrived, which is making many possible chances to get promotions. But, you are also required to be alert, as someone might stop your success. In business, you are advised to take special care of your decision making ability. While married life might face unfriendly situations at times. Lastly, delay your personal desires, as it might become a barrier.
Sagittarius
Sagittarians, the future foretells that during combustion of Venus in Aries, folks who are involved in business related to creativity will enjoy good success. On the other hand, students may go abroad for further studies. You will enjoy familial happiness and also a journey with partner is quite possible. Conversely, health issues related to stomach might occur. So, eat healthy. Moreover, you can expect a gift from your soulmate.
Capricorn
Venus combust in Aries has arrived with many possible good opportunities for you Capricorns. However, you need to focus on hard work. If you are doing business, which involves property work or water, it will be flourished. On the other hand, students will have to give their best to score high. Moreover, you will go on a trip related to work that too with partner. Lastly, sexual desires will be fulfilled with many playful and naughty moments.
Aquarius
Aquarians, an amazing working life has come, which will boost up your mind. If your promotion is still pending, it will be granted soon now. On the other hand, Venus combust in Aries will bring many new challenges for businessmen. At this time, you are required to pay attention on your family to attain familial bliss. Moreover, your health ratings are good and new love will enter in your life.
Pisces
Pisceans, this time, many beautiful trips are awaiting. Your professional life will also achieve great success. Export business will enjoy enormous number of profits and will celebrate success. During Venus combust in Aries, you are advised to take good care of your partner's need as well as yours. Lastly, an amazing news! Your old friendship may turn into a love cum arrange marriage.
We hope that our predictions for Venus combust in Aries exclusively made by Astrologer Neeraj Thapliyal have been helpful to you. May your life be filled with lots of bliss.