55% off
Emerald (5 Carat)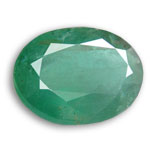 Ruling planet: Mercury
Zodiac sign: Gemini and Virgo
Emerald (Panna) the green colored gem is the gem stone of Gemini, the flirtatious and airy sign of the Zodiac. Mercury is the ruler of Gemini and Virgo and Emerald is directly linked with it. Wearing an Emerald brings good luck, fame and name. Wearing a clean emerald is said to give good results in all the business and trade activities. It will make the wearer a very influential speaker.If Mercury is exalted in a persons birth cart wearing an emerald may bring the furiousness of the planet to a rest and bring tranquility to your anxious mind. An Emerald of good quality and without blemishes gives good health, a strong body to the person wearing it. Apart from this, it also makes him wise and intelligent. It increases wealth and property for the wearer and blesses the native with children. It also ensures safe and painless delivery to pregnant woman.

Note: The image represents actual product though color of the image and product may slightly differ.
Price: INR Rs. 19258
Sale: INR Rs. 8599
You Save: INR Rs. 10659 (55%)
Add To Cart
Buy Now