47% off
Cat's Eye (5 Carat)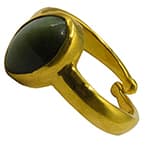 Ruling planet: North Lunar Node
Zodiac sign: Pisces
The Cat's Eye (Lahasunia) is a gem related to the moon's descending period when it vanes. This gem is associated with the zodiac sign Pisces. Jupiter is the lord of Pisces. People born under this sign are selfless, spiritual and focused on their inner journey. It is related to liberation, abstract thinking, asceticism, non-attachment, healing, moksha—enlightenment and wisdom. Mental worries created by the exaltation of the ruling planet can be removed by wearing a cat's eye pendant or ring. If cat's eye acts favorably, it makes one a wealthy person. Wearing a cat's eye can make the wearer strong and stay in good health. It also gives happiness in the matter of children and makes the wearer wealthy. It is a restorer of lost wealth. Cat's Eye is a quick acting gemstone and should always be worn after a trial. A cat's eye or amethyst worn with diamonds enhances its spirit and brings good fortune to the wearer.

Note: The image represents actual product though color of the image and product may slightly differ.
Price: INR Rs. 5398
Sale: INR Rs. 2849
You Save: INR Rs. 2549 (47%)
Add To Cart
Buy Now