Astrology has certain calculations derived from numerous universal norms and activities. Sunrise time and Sunset time play a big part in astrology. The time when Sun rises is known as Sunrise Time" and the exact time when the Sun sets is called the Sunset Time". As per Vedic Astrology, these timings play an important role in calculating various astrologically important things such as Rahu Kaal timings, Choghadiya and Hora . it is widely believed in Hinduism that with sunrise, the day begins and ends at sunset. If you want to know what time is sunrise today or you are keen to find out sunset time today, you are at the right place. Let's have a look at these details:
»
Sunrise & Sunset for Tomorrow
»
Sunrise & Sunset for Yesterday
»
Check Sunrise & Sunset in your city,
click here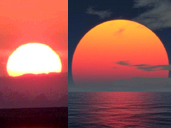 In this page, you can find yesterday's, today's and tomorrow's Sunrise and Sunset timings for your city. At several places and cities, Lord Sun is worshipped by carrying out aarti and chanting of mantras. People remember God in the early morning and wish for happiness, prosperity and mental peace in their lives. Similarly at the time of sunset, people pray for contentment and serenity within their lives.
Importance Of Sunrise & Sunset Timings
In Vedic Astrology, instead of dividing the day in 24 hours, the whole length is measured from one full sunrise to another. From calculating muhurat, casting ascendent to creating panchang, Sunrise and Sunset time holds a great significance. Depending upon the position of sun, the time differs for each city. Here, at AstroSage, we provide accurate time details in accordance with the city.
As defined, when the upper limb or disc edge of Sun appears in the sky above eastern horizon, it is known to be as Astronomical Sunrise. Similarly, its disappearance from the sky is known as Astronomical Sunset. Hereby, these factors are kept in mind when provided with sunrise and sunset timings in the panchang, article or newspapers. To carry out certain astrological calculations, these astronomical sunrise and sunset timings can be used. In Hinduism, auspicious muhurat and other timings are determined on the basis of Madhyalimb Darshan, i.e. when middle portion of the Sun's disc rises and becomes visible from the East horizon. Also, Light Refraction is ignored when calculating specific timings.
With Sun rise the day begins. It is believed that initiating work or activating with begin of day is very blessed and fresh. At the beginning of the day with sunrise, and at the beginning of evening with sunset, Aarti, pooja is offered to delight God in India. If you also offer your worship during these timings you will be blessed with happiness and peace in life.
Sunrise brings in new opportunities, positive energy and several possibilities. As soon as the dawn breaks in, a man wakes up with a feeling of freshness and strives to accumulate something useful throughout the day. Accordingly, sunrise occurs when Sun's geometric center is located at an angle of 18 degree beneath the horizon and it is still dark. This phenomenon determines the whole span of a day in Vedic Astrology. From time of birth, to casting a muhurat- everything relies on this information.
Scientific Reason Behind Worshipping Sun
As we all know, a human body is made up of five elements, i.e. Earth, Water, Air, Fire and Ether, and a proper balance of these helps to lead a good and healthy life. Seven colors of a white light too signifies seven chakras of one's body. Sun is the source of life, according to Rigveda, and worshipping it helps to eliminate negativity. In Vedas, even worshipping Sun during the sunset and offering water helps to get rid of sickness, demons and evil spirits.
Sun is the soul of the entire universe. With society accustomed to several beliefs and rituals, worshipping Sun reveals more scientific meaning. In Hinduism, when Sun rises in the sky, one offers water from a copper vessel, thus creating a temporary prism and allowing the light to enter and create a spectrum of seven colors. Through this refraction, one would look at the Sun indirectly, which proved to be helpful for eyes, body, soul and mind.
Also, Science has proved the importance of solar rays for humans. From cultivating food to generating electricity to providing solar therapies, Sun has a lot to offer. Opting for solar therapy improves metabolism, blood circulation and dermatological disorders. Exposure to sun rays helps pineal gland hormone to develop rapidly and revitalise the skin.
Calculating Sunrise/Sunset Time
Sunrise in astrology is said to be an auspicious occurrence, and many people carry out the traditional process of Surya Namaskar to praise the lord. There are numerous muhurats every hour in a day as per Hindu Astrology, which are also mentioned in Panchangam. Generally when consulting the panchang, it is observed that muhurat for Rahu Kaal takes place between 7 - 9 AM on Monday. It is calculated based on the assumption that the Sun has rose around 6 AM. Hereby, the timing for Rahu Kaal depends upon the appearance of Sun in the sky, early or late. Early the Sunrise, earlier the muhurat for Rahu Kaal and vice-versa. At AstroSage, we provide you exact sunrise and sunset timings to calculate different muhurats of the day and carry out auspicious activities.