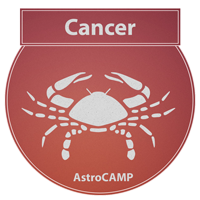 Cancer Horoscope 2020 indicates towards a year with mixed results. You may expect favourable results in business partnership and married life. There would be a couple of months when you need to be careful. Saturn would enter in Capricorn sign and in 7th house of your horoscope on January 24. At the beginning of the year, Rahu would be in 12th house in Gemini sign and later on, it would enter Taurus sign, in 11th house on September 23.
Apart from all these, another transit needs to be analysed, which is for planet Jupiter. It enters Capricorn sign in 7th house on March 29. It would shift back in Sagittarius sign on June 30 after following retrograde motion and again would enter in Capricorn in 7th house when it becomes direct. Venus, the planet of beauty would be combust during the period May 29 to June 09. The predictions for Cancer Horoscope 2020 in detail are stated below:
Economic Condition for Cancer Horoscope 2020
The commencement of the year 2020 may not be good for you financially due to the affliction of Lord of the 2nd house - Sun - in your 6th house with two malefic planets. Your income will, however, not be affected much. In the starting of Feb, there is a possibility of a decrease in your income or theft of money. During the months of Feb-march, there is a possibility of receiving an inheritance. Also, your inflow of money will be good during this time.
During the months April-June, there is a good inflow of money, however, there is a possibility of entering into arguments with your legal partners. During July-August, you may gain money either from foreign sources or lose money due to expenditure incurred. The latter half of the year is good as far as the economic condition is concerned. During November-December, you may purchase luxurious items for your family or you may buy a new vehicle/ land or property. Except for a few initial months, your financial situation will be fine. The year 2020 is good for your financial health.
Also Read: What is Pitru Dosh & Its Remedies
Health according to Cancer Horoscope 2020
For health perspective, this year may not be good. Since Ketu is placed in your 6th house, it may create health issues for you. The planet Ketu will remain in Sagittarius sign till the month of September. You need to be very careful during the period between March-June, as there's a possibility of your meeting with an accident. You need to very careful about your spouse's health as well during this period.
To enjoy life and get along with the auspicious and memorable moments of life, one needs to be hale and hearty. This year, it is predicted for you that you must take care of your father's health during the beginning of the year. From the month of April to June end, you need to follow a lifestyle that your body would love. No nasty habits of food that your stomach dislikes. Think not only of taste but nutrition, you will eat a lot healthier if you actively think of staying healthy throughout the year 2020. After that, you need to be careful in the month of November and December. During October-November, your spouse's health may decline. Take precautions as someone wise has stated that prevention is better than cure.
Career Horoscope for Cancer 2020
This year, Cancerians may expect good results in terms of career. At the beginning of the year, your income would be good. Venus the Lord of your eleventh house will be placed in the seventh house. Your sixth house is also strong during the initial phase. However, your luck may not go as per your expectations. During the months of February, your income may either fluctuate or there could be a financial loss. Mars being your 10th lord will be in the 5th house of your horoscope which is good and indicates that you may get employed in your area of specialization and your earnings will be good.
During the months of March-July, the inflow of money appears to be good. Your income may increase owing to promotion from your current position. In the month of August, you may earn from foreign sources as well. There might be an increase in expenditure during this month. During the months of September and October, you may get a hike or may change your job. The company you join will be a good one and a handsome hike in salary will be received owing to strong 10th house and its lord Mars. November-December will remain good for you in terms of your career.
Those natives of moon sign Cancer who are involved in any kind of business will find the second half of the year to be favourable. You may face some difficulties in your business partnership due to malefic aspect over your seventh house. Your revenue will, however, be not affected much. Overall, the year 2020 is good for you with regards to career and profession.
Also Read: Astrological Yogas for Imprisonment
Education Horoscope for Cancer 2020
According to astrological predictions for moon sign Cancer for the year 2020, students of this sign will get good results this year. At the beginning of the year, Mars - the Lord of their 10th house - will be in the 5th house, which is the house of education. It is good for students if they strive to make their career in respective fields related to their education. They may get good results for their hard work this year.
During the months of March-May, time is favourable for those who are preparing for competitive examinations. They may get desirable results. The months of July-August will not be that lucky in this regard. During mid-September, they may get success in everything they put their heart and soul into. After that, till the month of November, you will receive mixed results. Post-November, and during the last Month of the year, time will be favourable. Positive response shall be received in matters related to education. Overall, this year is good for students.
Family life as per Cancer Horoscope 2020
At the commencement of the year, your family life will be good. In the month of Feb, there might be gloom surrounding you and your home. Your in-laws may try to create an environment of happiness around you during this period. You may go on long distance travels or pilgrimages with your family. During March-July, you may feel happiness is back in your home, however, an aspect of Saturn at your 4th house from the 7th house may cause some kind of dissatisfaction at home front. This feeling of discontent will last throughout the year.
You may buy a vehicle or land in the month of March. There would be a good inflow of money during April-July. During July-Aug, an outflow of money is also predicted. During the month of October, you may buy luxurious items to make the life of your loved ones comfortable. The concluding months of the year will be good as far as family life is concerned. There is a possibility of the birth of a new life in your family.
Also Read: Astrological analysis of suicidal tendency
Marriage and relations as per Cancer Astrology 2020
According to Cancer Astrology 2020 forecast, the beginning of the year would be good in terms of love and romance. You will get ample opportunities to romance with your spouse. The intensity of love would be much in between you two, with an abundance of passion and energy. During the months of March-June, avoid falling into any arguments with your partner. The health of your spouse may also decline during the phase between March-June. If you are planning to get married this year, you may finally tie the knot in the middle of the year or in the last few months.
Newly married couples if planning for a child, shall expect the birth of a child during March-June. However, precaution is required in pregnancy because of the conjunction of two malefic planets in your 7th house. You may go on long-distance travel or long trips with your spouse and children. You may plan to visit temples or go on a pilgrimage with your life partner and family members. During this phase, there's also an indication of your meeting with someone special if starting a new relationship is on your mind.
Love Affairs as per Cancer Horoscope 2020
According to Cancer Horoscope 2020 for Love and Relationships, this year is average for love matters. If you wish to propose someone, you may face difficulty doing that. However, during the months of March-June, after much difficulty, you may get a positive response. If you are committed, you may also think of love marriage. During this period, you may be constantly involved in fights with your partner. You may have no time to dedicate to your partner owing to your busy schedule for business or work. It may become the reason for fights and arguments in between you and your partner.
After its transit in the month of September, Ketu will occupy your fifth house. This may create trouble in your love life and romantic relationships due to its malefic effects in your horoscope. You need to be very careful during this phase. There are chances that a break up may leave you with a feeling of disdain. Be humble and don't allow ego to come in between you two. In the months of January and February, you and your partner may feel high intensity in your love for each other. Overall, the year is moderate for you as far as love life is concerned.
Also Read: Astrological Analysis of House for Enemies
Remedies for natives of Cancer sign for the year 2020:
Remedies minimize the malefic effect of planets. This year, to acquire maximum benefit and planetary support, perform this remedy regularly.
You should donate a Chaya Patra on Saturdays. For this, fill mustard oil in a vessel made of clay or iron and donate it to someone after seeing your face in it. You have to do this regularly throughout the year. Also, on Tuesday and Saturday, light a lamp filled with jasmine oil and recite Hanuman Chalisa, Bajrang Baan or Sundar Kand. Afterwards, distribute prasad of jaggery-gram or Bundi to small children.
You can also establish the Chandra Yantra, as the luminary planet will offer you beneficial results, good health, as well as advancement and progress in life.