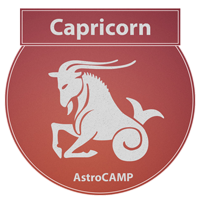 The year 2020 will contain mixed results for Capricorn people as per Capricorn Horoscope 2020. Favourable results in the fields like career and business can be expected. Saturn will enter in Capricorn sign in 1st house of your horoscope on January 24. At the commencement of the year, Rahu would be in the 6th house in Gemini sign and later on, it would enter in Taurus sign in your 5th house on September 23.
Jupiter enters in Capricorn sign in 1st house on March 29. It would transit back in Sagittarius on June 30 after becoming retrograde and again would enter in Capricorn in the 1st house after becoming direct. Combust Venus will yield its results from May 29 to June 09. Capricorn Horoscope 2020, as per Vedic astrology is described below:
Economic Condition for Capricorn Horoscope 2020
This year may not be very beneficial as far as your economic life is concerned. This year you may incur lots of expenditures. From the very beginning of the year, there are chances of wealth loss or theft. Your Lagna Lord and second house lord Saturn would be initially in your 12th house which represents expenditure and is not very auspicious. However, it would enter sign Capricorn on January 24, which is a good position of Saturn. This may, however, not give much relief to you as 12th house Lord Jupiter would enter in your first house with your Moon Sign Lord i.e. Saturn on March 29. It would again increase your expenses within the family.
There could be the possibility of marriage in your family or you may invest your money in religious deeds after March and before June. During March-June, your expenditure would skyrocket. Once Rahu changes its sign from Gemini to Taurus, there is a possibility of a disturbance in your wealth & finances. You should think well before investing your money anywhere and avoid investing in risky ventures. Overall, there would be a good inflow of money but also the outflow of money would be there.
Also Read: How to be Lucky through Astrology
Health according to Capricorn Horoscope 2020
A healthy body and mind would lead to a better life. Hence it is important for all to take care of health at utmost priority. According to the prediction 2020, your health will remain good throughout the year due to Rahu posited in your sixth house of disease.
At the beginning of the year, you need to take care of your health due to the affliction of your Lagna Lord and Sixth house Lord. However, it will not last long, you may recover very soon from your ailment if you are suffering from anything major. In the month of April, you need to take extra care of your spouse. In the initial months of the year, and in the month of August, you need to take care of your father's health.
Career Horoscope for Capricorn 2020
Year 2020, welcomes you with good results in your career field. The year will come with a good note for you. Saturn will transit in your Lagna in the month of January, which will aspect your tenth house of career with its tenth aspect. Eleventh house Lord Mars will also be there in the 11th house and another good combination of Rahu in the sixth house will give you favourable results in career. You will enjoy a good name and fame this year. This year is extremely auspicious for foreign trade and relations.
Those who are searching for a job or have lost their jobs due to some difficulty in the workplace in the previous months might be able to bag a good job with handsome salary. In the months of March to May, your career will rise. You may get promoted during this period. Your earnings will be good. Your luck will favour you most of the time this year. You need to be careful in the month of October and November. There may be some disagreements at workplace which you may have to face. You may travel abroad in the initial months and during the year-mid for career purpose.
If you are running your own business, this year is good for you to get name, fame and money. You may travel long distances or to foreign lands to expand your business and therewith, achieve a greater margin. Hence, this year is auspicious as far as your career or business is concerned.
Also Read: Earthquake Prediction Chances in India
Education Horoscope for Capricorn 2020
According to Capricorn Horoscope 2020, students of this sign may get good results this year. Due to the transit of Rahu in the sixth house of competition, it may provide you with fruitful results. During the initial month, you may get success in your competitive examinations. You have to work hard in the months of March-June due to the placement of Jupiter in your Lagna. Your luck would also favour you most of the year.
July and August will help you achieve your desired goals. After the month of September, once Rahu changes its sign from Gemini to Taurus, it will reduce your power to face challenges. However, the year is favourable after the month of September due to the involvement of the sixth house with relevant houses. You may get employment if you are seeking from a long time.
If you wish to attain a professional degree from a good institution abroad, this is a good time when your desire may get fulfilled. You may get good news in the initial two months and then again in the second half of the year before the month of December. Overall, this year will prove to be excellent for education perspective for you.
Family life as per Capricorn Horoscope 2020
Your family life will be moderate for you. Due to the placement of Saturn in your first house, it may lead you towards dissatisfaction. Your second house lord Saturn will be placed in your 12th house in the starting of the year. It is another indication of some loss. However, it is not placed in any bad or inimical sign. It is associated with the 1st and 2nd houses. Hence it becomes auspicious for you.
You may purchase some luxurious items for your family in the month of January. Jupiter will remain in your 12th house during the year. It would help you to repay your debt if you have taken any loan. Your relatives will not go against you. Once Rahu changes its sign from Gemini to Taurus, in the month of September, it would be good for speculative gains.
During March-June, there is a strong possibility of any Manglik Karya within your family due to Jupiter and Saturn aspects on your 7th house of marriage. In the month of February, you may expect some unexpected gains in your family. Once Rahu changes its sign, it may also give you some stress related to your family.
Marriage and relations as per Capricorn Horoscope 2020
According to Capricorn Horoscope 2020, you will be getting mixed results in your married life. When the year begins, Venus would be in your first house, which is good for your married life. You would have better relations with your partner in the month of January. Later on, Saturn will transit in Capricorn, which may take away the romance form your life as you will be more concerned about routine things and responsibilities. However, once Jupiter transits in the Capricorn Sign, it would again ignite your passion. Though there would be arguments, you would be loving towards your partner during March-June. If you are not married yet and are planning to, year-mid is auspicious.
You may go on long and short journeys with your spouse in the year-mid. You may also visit places of religious importance with your spouse during this phase. In the month of April & December, your spouse's health may decline. Adhere to the doctor's advice. Newly married couples may expect the birth of a child this year from March to June and later on in the months of November and December. Overall, this year for marital life is going to average.
Also Read: Fundamentals of Horary Astrology
Love Affairs as per Capricorn Horoscope 2020
According to Capricorn Horoscope 2020, this year is moderate for your love life. However, there is a continuity in your love life. If you love someone and wish to marry them, you may tie the knot this year. Mid-year and the months of November and December months look good for the same. In initial months, you will be very romantic but as the year progresses, Saturn will transit in your Lagna and give you a feeling of dissatisfaction in all aspects of life. You may not be interested in anything. However, It doesn't mean you would break up with each other.
During March-June, your lost interest in love and romance may return. Jupiter will also transit in your Lagna, which would be auspicious for you. You might be involved in arguments but it would not affect you much due to good positioning of Jupiter. It would protect you from any kind of mishaps. If you want to propose someone, go ahead as you may receive a positive response in the year-mid. Overall, the year looks moderate for love life.
Remedies for Capricorn sign people for the year 2020:
Perform this remedy throughout the year for best results:
Worship Lord Shani regularly. Offer water to Peepal Tree on Thursday and Saturday. Apart from it, you should help the poor and needy. Offer flour to aunts and involve yourself in religious deeds. Avoid carelessness and lazy attitude. Wear blue sapphire on Saturday, if possible, in your middle finger. Also, you can offer yellow coloured flowers to Lord Vishnu on Thursday. Read Shri Ganpati Atharvashirsha and offer Durva (grass) to Shri Ganesh.
Moreover, you can also wear Bichchoo Mool (Nettle Leaf Plant Root) to receive favourable results from Lord Saturn, and remain fit as a fiddle.