The festival of Makar Sankranti will fall on 15th January in the year 2020. This is an important festival of Hindus and is celebrated all over India with great merriment. In the western part of India, this festival marks the changing of weather and spring coming into play after the chilly winters. Makar Sankranti is also known as Uttarayan, Pongal etc. in different states of India.This festival is admired and celebrated by people of all ages. The weather starts changing, and is more comfortable, days start becoming longer, and the beautiful season of Spring is around the corner. These changes are embraced by everyone and celebrated in the form of a festival.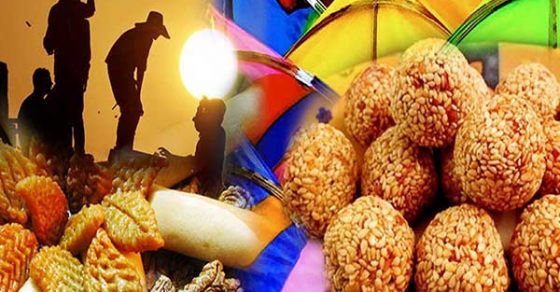 People cook various dishes on this day. A special cuisine inevitably served in Northern India is khichdi which is specially made using a lot of ghee and mixing urad dal and rice in select proportion. Devotees, in a large number, visit the sacred river, Ganga, to dive into the holy water and offer prayers to Suryadev.
In South India, this festival is celebrated as Pongal while in the Northern State of Punjab it is celebrated as Lohri. In Gujarat and Rajasthan, you can see people flying kites, on a large scale, on this day as a part of Makar Sankranti celebrations. This festival is also known as the harvesting festival and the spring festival as it is celebrated when the crucial time of harvesting begins.
Also Read: Daily Horoscope
How is Makar Sankranti celebrated?
Social festivities like feasts, bonfires, kites, colourful decorations and children going from house to house singing and asking for treats is a common sight in this festival. People also serve khichdi they cook at home to the poor and needy. Since the festival is also called "Nahaan" holy dip is considered auspicious on this day. The popular Kumbh Mela also begins around these dates.
With an estimated public gathering of 40 -100 million, near the banks of river Ganga, Kumbh Mela is so immense that it could be seen even from the sky. People perform prayers to the sun and take a bath in the holy river Ganga and Yamuna at the Kumbh Mela which is fair that begins from the very day of Makar Sankranti. Though Kumbh is not observed every year, it is itself a marked religious observance. This event is a tradition attributed to Adi Shankaracharya.
Traditional cuisines are offered to God and the ancestors, who are no longer alive. Just like every other festival, people dress up in traditional clothes and worship Lord. Makar Sankranti is one such festival that has different names and different manners of celebration. A common dish cooked on this day is a sweet made using sesame and jaggery. In such a diversity, having a common dish symbolizes togetherness, peace and joy.
Makar Sankranti Date and Day
As per the Hindu lunisolar calendar, the date of Makar Sankranti is set. It usually falls on 14th January, in the solar month of Makara and lunar month of Magha. This date marks the end of the month of Pausha in the lunar calendar and Dhanu in the solar calendar. There are two systems according to which the date of Makar Sankranti is calculated. January 14th is the date based on the Nirayana system while the Sayana system computes the date to be around 22nd or 23rd December.
What is the Significance of Makar Sankranti?
Makar Sankranti is a festival dedicated to the Hindu Sun God (Surya). Uttarayana is also marked by this festival. According to the stories, this was the day when Lord Surya went to meet his son Shani at his place. As the king of Makar Rashi or Makar sun sign is Shani, this day is known as Makar Sankranti. It is also believed that this was the day when Lord Vishnu defeated the evil spirits by leaving them under the Mandara Mountains. The day, thus, holds significance of the victory of good over bad.
Also Read: Know how will be your Finance?
Why is a dive in Holy River Ganga taken on Makar Sankranti?
Another tale says that king Bhagirath did tarpan for his ancestors in the holy river Ganga. Since then, taking a holy bath in this river is considered to be sacred, especially, on the day of Makar Sankranti. It is believed that taking a dive into the holy rivers makes you free from all the sins and gives you an opportunity to start and give life as a fresh new start. Although fairs are organized in all parts of the country on this day, in Allahabad there is a fair known as Magh Mela that is attended by a large number of devotees during this festival.
Scientific values of this day
This day does not have only religious significance but also scientific, making it very important in every aspect. Scientists believe that this day marks the starting of the summer season and eating things like jaggery, sesame seeds and ghee is considered to be healthy for our body and mind. It is also considered beneficial to go out in the sun and take a bath which makes the importance of taking a dive in the rivers very clear.
Why organizing a fair?
In villages, fairs are a means of entertainment.
When organized on a mass level, they have different attractions.
People get a chance to enjoy and spend time with their respective families
Trying out different cuisines and roaming around with family and friends always helps in making the bond stronger and brings people closer.
People can go around to shop for small things or get involved in recreational activities.
Music and song need no explanation. Rather traditional folk dances are being preserved this way.
People from different countries and cultures get to understand what real India is all about.
It is a source of earning for many poor people.
Also Read: Lal Kitab, a book of sure shot remedies.
Makar Sakranti in Different parts of the country:
In Gujarat and Maharashtra, this festival is for both the old and young generation. In this festival, colourful kites cover the sky marking the beginning of spring season. This ritual of flying kites has become so popular that an Annual Kite Flying day is celebrated in Delhi as well as Gujrat on the day of Makar Sankranti.
In South India, the festival of harvest lasts for 3 days and is one of the major festivals celebrated. People offer rice boiled with milk to the God of rains - Indra, on the second day the same is offered to the Sun God and on the last day all the cows are gathered and given a bath, later on, they are worshipped.
In Punjab, Makar Sakranti is celebrated as Lohri. People burn logs of woods and huge bonfires are lit. Things like sweets, sugarcane and rice are thrown in the bonfire lit. While friends and family gather to sing, dance and celebrate the festival together.
In Northern India, including Uttar Pradesh, this day is celebrated as Khichdi Sakran. People cook khichdi and eat it as the first meal of the day. Masses of people go out to bathe in the holy rivers.
The name of this festival also varies in different parts of the country, depending upon the way it is celebrated. This day onwards, Goddess Saraswati is worshipped as this day marks the beginning of Vasant Navratri.
Makar Sankranti bids adieu to the harsh winters and marks the arrival of spring season which means the time to feel the shining Sun has finally come. Makar Sankranti falls on the same date in the Gregorian calendar every year. This festival also marks the transition on the celestial path of Sun into the Zodiac sign Makar (Capricorn).
Charity for the poor and needy has to be performed on this day, without which your prayers, performing rituals or taking bath in holy rivers is useless. Serving mankind and making everyone understand that the best religion on earth is humanity should be the motive behind any celebration or festival.
This Makar Sankranti, do some good, celebrate the day with people you love, and try to explore the diversity of a nation as great as India. Best wishes from AstroCAMP.