Navratri, the literal meaning of the which is nav (nine) and ratri (nights) are consecutive nine nights dedicated to the worship of different avatars of Goddess Durga or Shakti. Navratri, the literal meaning of the which is nav (nine) and ratri (nights) are consecutive nine nights dedicated to the worship of different avatars of Goddess Durga or Shakti. Celebrated twice a year by the commoners, Navratri comes once in the month of Chaitra and then in the month of Ashvin, as per Hindu Panchang. However, there also exists gupt Navratri which is neither spoken about nor celebrated by the masses. In this article, we shall discuss the popular days of Navratri pujan and why are these nine days auspicious.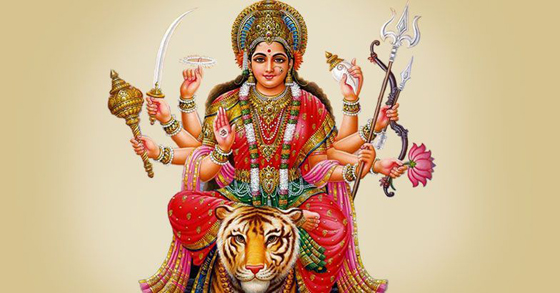 Navratri is one major Hindu festival in which the nine different roops (forms) of Hindu goddess Durga are worshipped. The names of each are -
Day 1. Goddess Shailputri,
Day 2. Goddess Brahmacharini,
Day 3. Goddess Chandraghanta,
Day 4. Goddess Kushmanda,
Day 5. Goddess Skandmata,
Day 6. Goddess Katyayani,
Day 7. Goddess Kaalratri,
Day 8. Goddess Mahagauri, and
Day 9. Goddess Siddhidatri.
Also Read: Career / Job Report
Goddess Shakti represents the power of good, the power of a nurturer, of a destroying force, of a woman, of a mother. She is an incarnation of every role that is glorified by women. She is protective, she is contented and she is the one who completes the cycle of birth, thus allowing life to sustain on Earth. Hindu religion since Vedic times has honoured women. It is believed in our country that - यत्र नार्यस्तु पूज्यन्ते रमन्ते तत्र देवता:। - which means that where women are respected there the Gods reside.
In Indian mythology, Devi has killed demons, protected her devotees and set an example that a woman is not weak. If she has the potential to give birth to a man, she does possess the calibre to put an end to the evil. Cherishing all the aspects of Shakti, people observe a fast during Navratri. However, in Kolkata region, there's no such norm for Durga Puja.
When is Navratri in 2020?
In the year 2020, the first Navratri of the year is in the month of March starting from 25th March to 10th April. While Sharad Navratri is in the month of October starting from 17th October to 25th October. On the next day, i.e. 26th October, the festival of Dussehra will be celebrated. Don't forget to have a look at Panchang, so you celebrate the festival at the right muhurat and never miss a detail.
Navratri & its significance.
Every festival celebrated in India has a religious and astrological significance. Fasting is one of the major practices in India, as it is believed to help purify our body, mind and soul. During Navratri, devotees keep a long, nine-day fast to please the goddess and get her blessings. Eating tamsik bhojan or food like eggs, meat, onion, garlic and alcohol is forbidden during these nine days.
In Hindu Vedas, Goddess Durga is believed to be a manifesto of power. This festival celebrates the power of a woman as Goddess Durga killed devils like Shumbha, Nishumbha and Mahishasur. It is a common practice to invite young girls home for a feast that includes halwa puri and touch their feet asking for blessings.
The ninth day of Sharad Navratri is Ram Navmi, and the tenth day is Dussehra. Twenty days from Dussehra, we celebrate the most awaited festival of the year i.e. Diwali. Hence, Sharad Navratri is simply a beginning for the season of festivals.
Also Read: Daily Horoscope
Navratri Rituals
Apart from doing prayers, there are certain rituals to be performed during Navratri.
1. Observing a fast for nine days or on the first and last day of Navratri.
2. Since the fasting is for a long period, there is a particular type of food that you can eat after performing the pooja, and even during the day.
3. Worshipping Maa Durga during morning and evening is inevitable.
4. Some people do not eat any solid food throughout these nine days.
5. A pair of Cloves should never be forgotten during Navratri Puja.
6. Worshipping and offering food to young girls is mandatory.
7. Maa Durga is offered Shringar which includes bangles, saree, kumkum etc.
8. Remaining modest is above every other rule. If you mistreat women, you are not eligible to worship the goddess.
Pooja ingredients
There are certain things which are important for the puja that takes place at the time of Navratri. Some of the things include the image or statue of Goddess Durga, a red cloth or saree, red chunni for the goddess, water of the holy river Ganga in a clean utensil, makeup articles like bindi, sindoor and bangles which are a sign of a married Indian woman, leaves of mango tree, coconut, puja samagri etc.
Steps for puja during Navratri
Take a bath early morning and, if you are a married Indian woman, dress up like one. Sindoor, Bindi, Bangles and other articles should be worn by you.
Set up the worshipping place and puja material, you will need to clean it every day but the idols of Navdurga will reside there only, until the last day of visarjan.
Put leaves of mango tree at the entrance of your house.
Check Panchang and purify the worshipping area with Ganagajal.
Keep a Kalash filled with water of the river Ganga. You need to put leaves of mango tree around it and then, place a whole coconut (having water inside) on it.
Do aarti every morning and evening.
Perform a small havan on your own or take the help of Pandit ji.
Offer ghee, samagri, camphor and cloves in the fire.
Recite Durgasaptshati on regular basis.
Observe a fast and keep a check on your behaviour.
Invite young girls to your home on the last day of Navratri. Offer them fruits, foods, sweets and money.
You can call five, seven, nine, eleven or more girls.
Also Read: Planetary positions for career in fashion industry
2020 Navratri calendar
Panchang has to be consulted for every important event as per Vedic Astrology. The auspicious muhurats for the rituals can be known only through a Panchang, but the dates of Navratri for 2020 are given below:
Chaitra Navratri
Sharad Navratri
Date
Day
Date
Day
25 March
Wednesday
17 October
Saturday
26 March
Thursday
18 October
Sunday
27 March
Friday
19 October
Monday
28 March
Saturday
20 October
Tuesday
29 March
Sunday
21 October
Wednesday
30 March
Monday
22 October
Thursday
31 March
Tuesday
23 October
Friday
1 April
Wednesday
24 October
Saturday
2 April
Thursday
25 October
Sunday
Festivals make life happier and instil spirituality in us. Navratri is a nine days period to test our self-control. However, the Durga Pujo in West Bengal is an occasion of celebration where Pandals are set and people gather around to see beautiful decorations and enjoy different cuisines. In Gujrat, a similar view can be seen where Dandiya, a dance form, is played at a large scale. People enjoy doing Garbha and singing folk music. The sight of Dandiya is so luring that people from abroad also come to visit Gujrat during Navratri.
This festival is celebrated for nine days and people have been passing on the rituals, beliefs, customs and cultural values from generation to generation. This is how we grow as a country with such a diverse range of religious norms. Navratri gives us an opportunity to understand the cycle of life and that life is impossible without women being at the heart of it. This Navratri, let's pledge to make our country a safer place for women, where there are no crimes against women, where we not only state, but understand the true meaning of worshipping the Goddess.
AstroCAMP wishes you a Happy Navratri.