All the dates and Tith of New Moon 2020 will find a place in this article. New Moon is considered to be an important event according to the Hindu Panchang. During this occurrence, the Moon is not visible in the sky, which is why darkness prevails all over the earth in the night. According to the Hindu calendar, Amavasya or New Moon is the last Tithi of Krishna Paksha. Since the new Moon arrives every month, it takes place twelve times in the stretch of a year. Each and every New Moon has its own significance. Worshipping the Lord and carrying out Puja rituals is considered very auspicious on this day.
Yearly Horoscope : Click Here to Read!!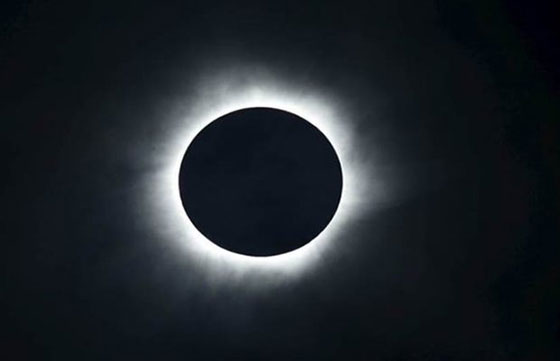 As per the Moon's phases, a month is divided into two Pakshas of 15 days each in the Hindu Panchang. The phase in which the size of the moon continuously increases is known as Shukla Paksha, while the other phase in which the size of the moon keeps decreasing is called Krishna Paksha. As it has been mentioned, the Moon's size keeps growing bigger during Shukla Paksha and on its last day, the Moon appears full and this phenomenon is known as Purnima. In the same vein, when the size of the Moon grows smaller during Krishna Paksha and on the last day it vanishes out of one's sight completely. This day is what we are discussing today i.e. the New Moon. Pitrudev is believed to be the lord of Amavasya, hence Pitru our forefathers are remembered on this day and Shradh rituals are performed for the redemption of their souls. Worshipping them on this day also helps us to obtain the blessings of our forefathers.
The New Moon or Amavasya has its own importance in every religion. Some consider it auspicious, while others brand it as an inauspicious day. From a scientific point of view, New Moon is a common phenomenon just like the other astronomical occurrences. However in Hinduism, the New Moon is given an auspicious status, especially the one which falls in the month of Magh. This New Moon or Amavasya is known as Mauni Amavasya.
New Moon 2020
The reason behind the genuine inquisitiveness of people for New Moon is that, people want to keep track of its dates and Tithis so as to make preparations for festive rituals and various other Pujas. The Hindu Panchang states that there are twelve New Moons occurring in a year. People nowadays rush to the internet to get information about the Tithis of the New Moon, but most of the facts and figures available online are not much trust trustworthy, which is why we have come up with all the New Moon Tithis and dates falling in the year 2020 which are mentioned below.
| | |
| --- | --- |
| Date | Amavasya |
| Friday, January 24 | Magh Amavasya |
| Sunday, February 23 | Phalguna Amavasya |
| Tuesday, March 24 | Chaitra Amavasya |
| Wednesday, April 22 | Baisakh Amavasya |
| Friday, May 22 | Jyestha Amavasya |
| Sunday, June 21 | Ashad Amavasya |
| Monday, July 20 | Shravan Amavasya |
| Wednesday, August 19 | Bhadrapada Amavasya |
| Thursday, September 17 | Ashwin Amavasya |
| Friday, October 16 | Ashwin Amavasya (Adhik) |
| Sunday, November 15 | Kartik Amavasya |
| Monday, December 14 | Margshirsha Amavasya |
Full Moon: Religious Importance
The New Moon is very important for the ones who believe in Hinduism. This day is considered auspicious to conduct religious activities. Reciting chants on this day along with performing meditation, and worshipping the deities helps one to eradicate negativity from his/her life. On this day, if you circumambulate around the Tulsi plant 108 times, peace of mind will be attained. The New Moon's day is also equally important for those who wish to set foot in the realm of spirituality. Performing meditation on this day provides ecstasy to the practitioners of spiritualism.
Remedies to Observe During New Moon
On the day of New Moon, part from conducting prayers at your own house, you should also visit the temple and donate food to the poor and needy people. As per the beliefs, donating food is considered auspicious in Hindu religion, which is why it garners propitious results if it is carried out during the New Moon.
Oil should be offered to Lord Shani during New Moon. along with this, you can also donate black lentils(Urad Dal) and Iron.
Prepare dough balls and offer it to fishes. It will help you to earn monetary resources and obtain good virtues. If there is any child in your house, then make him/her perform all these remedies to receive auspicious results.
Taking a bath in holy rivers is also considered auspicious on this day. If there is no river near you, then take a bath with pure water and add a few drops of Gangajal to the water.
On this day, after meditating and taking a bath, recite Hanuman Chalisa and offer sweets to the Lord. If you cannot recite, then chant Hanuman ji's Beej mantra. While worshiping, light a lamp with jasmine oil.
Numerology Report 2020 : Click Here to Read!!
New Moon Importance
The New Moon day not only has religious importance, it is also given great relevance in the realm of astrology. The Moon is quite an important planet in astrology, so the day of New Moon is also considered very crucial by astrologers. According to the scriptures, one should offer Tarpan and donations to get rid of Pitra dosha on this day. The major festival of our country, Deepavali is also celebrated on New Moon only. If a person is under the affliction of Kalsarp Dosha then he/she can eradicate it by observing the necessary remedies on this day.
According to Hinduism, every Amavasya is important, but Amavasya falling in Magh month i.e. January-February is the most important place among all Amavasya. This Amavasya is also known as Mauni Amavasya. Mauni Amavasya is considered very auspicious and many sins of a person are washed away on this day by charity, Siddhi Sadhana and keeping a silent fast. Those who have less intellectual capacity, if they feed rice to the cow on this day, they get good fruits. Amavasya is not considered suitable for performing any auspicious work, on the other hand, this day is very important for spiritual work. People who practice meditation and meditation wait for Amavasya day because their spiritual life gets new dimensions on this day. Apart from Mouni Amavasya, Somwati Amavasya, which falls on Mondays, is also considered auspicious by natives as they attain mental peace by performing religious and spiritual tasks.
Things to Keep in Mind while Observing Amavasya Fast
According to Bhavishpuran, if you observe a fast during New Moon, then you should wake up before sunrise in the morning and take a bath and then perform meditation. After this, duly worship and worship your ancestors. Once the Puja is commenced, donate the needy according to your ability. If you observe silence on this day, it brings peace to your mind. While Keeping the New Moon fast, you should study religious books and stay in the company of knowledgeable people. It is believed that by keeping this New Moon fast, one also gets from sins committed in the previous birth.
Important Tithis of Amavasya Mouni Amavasya (New Moon)
Mouni Amavasya(New Moon) is the most important amongst all the other New Moons. It is mentioned in the Mahabharata that many pilgrimage journeys are embarked upon by devotees during the Magh month, which is why there is a special importance of chanting, performing austerity and taking a bath in holy rivers. If the bath is taken in a holy river during the New Moon's day, Lord Vishnu gets pleased instantly. According to the Padma Purana, taking bath during the other New Moons does procure much auspicious results as it does during Mouni Amavasya. On this day, natives who takes a bath in the holy rivers with full devotion are able to wash off their sins and also attain salvation. This day is important for both householders and ascetics.
Somvati Amavasya(New Moon)
Somvati Amavasya(New Moon) also occupies an important place in Hinduism and it falls on Mondays. It is believed that if someone observes a fast on this Amavasya, then his/her wishes attain fulfillment. This fast is also considered very important for married women because if they keep fasts on this, their husbands are granted longevity.
Kartik Amavasya
The New Moon which falls in the month of Kartik is known as Kartik Amavasya and it coincides with the grandiose Himdu festival of Diwali. Apart from getting engaged in Diwali celebrations, natives also offer Tarpan to their ancestors and make donations on this day. It is believed that Lord Krishna narrated the importance of Kartik Amavsya during Shanti Parv and stated that whoever worships him on this day will be granted redemption from all his/her Doshas, as this day is quite dear to him.
Spiritual Importance of New Moon
In the realm of astrology, Chandra Dev is considered the significator of one's mind. Since the Moon is not visible on this day, it also authors an impact on the Earth's creatures. The New Moon's Day also has a profound effect on the minds of people who are very emotional in nature. Those who hatch negative thoughts in their mind also come across a challenging time during this month. It is also believed that on this day negative energies attain strength and possess the power to impact people. However, people who practice spiritualism path test their minds on this day and practice meditation to control their thoughts. Many spiritual thinkers also avoid speaking on this day because the mind becomes unstable by speaking or expressing feelings. Overall, this day offers a test for those individuals embarking on the spiritual journey when they resort to meditation to introspect their state of mind.
Do's and Don'ts During New Moon
On the New moon day you should avoid the consumption of vindictive food items as it can have a negative impact on your emotions.
Intoxicating substances should also be avoided on this day.
On the New Moon's day and it's very next day, celibacy should be observed.
Refrain from speaking much on this day.
We hope that this blog written on New Moon proves to be insightful for you. We wish you all the best for your golden future!!!